The Children's Hospital of Philadelphia (CHOP) announced a $50,000 gift from seven-time GRAMMY winner Taylor Swift, which will be used to create specialized programming for teens with cancer treated at CHOP's Cancer Center.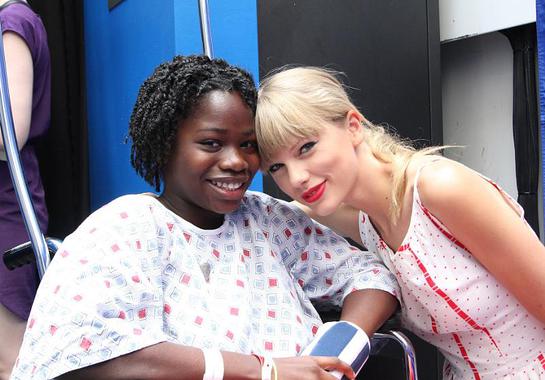 The first initiative will be to establish a high-tech music therapy cart for teens to create and produce their own music while they go through cancer treatment.
"We are thrilled that Taylor Swift has chosen to support The Children's Hospital of Philadelphia's Cancer Center," said Steven M. Altschuler, MD, chief executive officer of The Children's Hospital of Philadelphia. "Her gift will help lift the spirits of many CHOP patients during a difficult time."
"Taylor Swift's music is an inspiration to so many of our teen patients," said Lamia Barakat, Ph.D., psychologist and director of the Psychosocial Services Program at CHOP's Cancer Center. "We can think of no better way to use her gift than to grow our Adolescent and Young Adult initiative designed to support the emotional well-being of our teens with cancer."
In 2010, the Cancer Center at CHOP embarked on an Adolescent and Young Adult initiative, recognizing that outcomes for teen cancer patients are improved when they are treated by a comprehensive, multidisciplinary program of psychosocial services geared specifically towards teens rather than younger children. One important component to meet teens' unique developmental needs involves providing emotional support and building resiliencies.
"Teenagers who are being treated for cancer have emotional and social needs that are different than their younger counterparts. They're facing a frightening diagnosis and treatment during what is already a time of great physical, social and emotional change," said Stephanie Rogerwick, child life manager at CHOP's Cancer Center.
To address the needs of this special population, the Hospital's Cancer Center has created several programs to support teens, and this high-tech music therapy cart will be an innovative resource to further support their emotional well-being. It will be available in patients' rooms and in the Center's teen room.
"Essentially a recording studio on wheels, this new tool will enable our Music Therapy Team to eliminate traditional barriers, and allow for limitless musical expression by our teen patients," said Rogerwick.
The Children's Hospital of Philadelphia was founded in 1855 as the nation's first pediatric hospital. Through its long-standing commitment to providing exceptional patient care, training new generations of pediatric healthcare professionals and pioneering major research initiatives, Children's Hospital has fostered many discoveries that have benefited children worldwide. Its pediatric research program receives the highest amount of National Institutes of Health funding among all U.S. children's hospitals. In addition, its unique family-centered care and public service programs have brought the 535-bed hospital recognition as a leading advocate for children and adolescents. For more information, click here.
Source: PR Newswire