During a press conference at Children's Hospital Los Angeles (CHLA) last week, Black Eyed Peas star apl.de.ap announced that his charity, Apl.de.ap Foundation International (ADAFI), will partner with distinguished pediatric eye surgeon, Thomas Lee, MD, and his team of experts in the renowned Vision Center at Children's Hospital in support of the "Campaign for Filipino Children."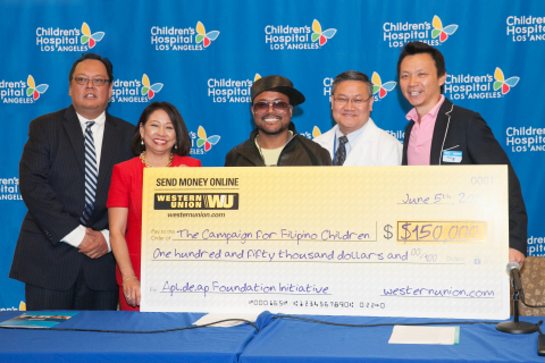 As the foundation's first healthcare initiative, the campaign will provide a sustainable approach to the diagnosis and treatment of a widespread eye affliction in the Philippines that causes blindness in premature babies.
The cause is personal to Apl.de.ap, who was born legally blind to a poor family 30 miles outside Metropolitan Manila. Until he was adopted and brought to the United States for eye treatments, his vision challenges brought about difficulties in school, self-esteem problems and often required special assistance.
"In a country where there are very few provisions for special education, the prospects for children with visual impairment are quite dismal," says Apl.de.ap. "This issue is something we have the power and knowledge to address. By partnering with the foremost experts in this area – Dr. Lee and the experts at Children's Hospital Los Angeles – we are not only saving the vision of thousands of children every year, we are vastly improving their chances of a better life."
The preemies are victims of an eye disease called retinopathy of prematurity (ROP), which affects children worldwide. In the Philippines, the condition is both economic and medical in scope: at least ten percent of all premature births in the Philippines are caused in part by the relative deficiency of prenatal care available to the poor, and at least thirty percent of those preemies develop ROP.
Many Filipino hospitals and physicians lack the training to diagnose the disease, which causes abnormal blood vessel growth from excessive oxygenation, destroying the retina, the eye's inner most layer. If not treated within 48 hours of diagnosis, the baby will become permanently blind.
To solve this issue, partnerships will be created with four pilot hospitals in the Philippines, including but not limited to: a central training hospital in the capital in Metropolitan Manila; a hospital in the province of Tarlac and/or Pampanga in Luzon region; a hospital in the province of Cebu and/or Iloilo in the Visayas region; and one in the province of Davao in Mindanao. Lee and his team will travel to the country where they will work closely with the Philippine Academy of Ophthalmology to train medical staff on-the-ground in the screening, diagnosis and treatment of ROP to prevent blindness. They will also supply retinal imaging systems called RetCams to assist in diagnosis.
The campaign estimates that by training at least six to ten medical practitioners in four hospitals approximately 4,380 babies can be saved from blindness cause by retinopathy of prematurity every year. The future goal is for the pilot hospital partners to create a sustainable program by developing their own ROP training programs and sharing equipment with their counterparts in other hard-to-reach provincial hospitals.
"These children have preventable eye disease and I want to be sure we do the best to our ability to make sure they are given a chance at sight," says Lee, division chief of CHLA's Vision Center and a leading clinician and researcher in his field who is able to monitor eye exams and surgeries halfway around the world using advanced telemedicine medical equipment.
Lee has previously executed a similar multi-year program to address retinopathy of prematurity in Armenia under the auspices of USAID Armenia, as well as China, Mexico and Mongolia.
ADAFI is committed to raising approximately $650,000 in part through a series of concerts featuring Apl.de.ap and other artists during a two-year initiative to support the effort with the help of The Vision Center at CHLA. The fundraising kicked off Sunday June 8 in a benefit concert at the Greek Theatre in Los Angeles, where Apl.de.ap and his Black Eyed Peas bandmates will.i.am and Taboo announced the Campaign for Filipino Children. A second concert headlined by Apl.de.ap has been scheduled for Aug. 16 at the Agua Caliente's 2014 Summer Extravaganza in Palm Springs, where the public will be able to buy raffle tickets to a 2014 racing red Ford Mustang.
Lead campaign sponsor WesternUnion.com has committed $150,000 to the effort and the public can make donations to support the campaign via www.ForFilipinoChildren.com. The funds raised will go toward the campaign as well as the rebuilding efforts in the Philippines after Typhoon Haiyan.
"The goal of the Campaign for Filipino Children is to build the infrastructure in the Philippines to diagnose and treat this affliction causing blindness in our young children," says Sonia Delen, campaign chairperson and a member of the International Executive Committee, Apl.de.ap Foundation International. "We will accomplish this with the help of Children's Hospital Los Angeles and the support of generous sponsors like WesternUnion.com and caring people around the globe."