The highly anticipated FIFA World Cup in Brazil is only a day away, but the world's best soccer player of 2013 and Save the Children's artist ambassador, Cristiano Ronaldo, still took the time to make the dreams come true for seven kids from Far Rockaway, Queens.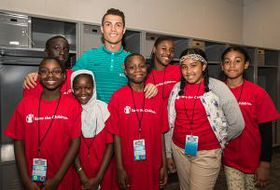 Ronaldo treated a group of 10-13-year-old fans with tickets to the Portugal vs. Ireland game last night at MetLife Stadium in Rutherford, N.J, the last international friendly before the big event. Afterwards he met up with the kids, who come from a community struggling with poverty.
"These kids are from a community where 65 percent of children live 200 percent below the poverty line. Cristiano Ronaldo grew up in the same circumstances as many of them. He was once a little boy with a big dream and is an example that the impossible is possible," said Aria Doe, executive director of the Far Rockaway-based Action Center. The organization, which has partnered with Save the Children in the aftermath of Superstorm Sandy, provides local kids with opportunities to learn and achieve their full potential through arts, education and sports—activities their parents could not otherwise afford to send them to.
In the wake of Superstorm Sandy, Save the Children teamed up with the Action Center to help the organization and the community get back on their feet, recover physically and emotionally and prepare for any disasters in the future.
Taran Francis, 11, one of the seven kids who scored the prized tickets to last night's game, remembers too well the impact Sandy had on his family. But he has an optimistic outlook: "Tough times don't last, tough people do. Why? Because my family and I fought through the storm."
A caring father and passionate advocate for children through Save the Children, Ronaldo talked to his young fans about their dreams and aspirations. By meeting them yesterday, he made at least one of those dreams a reality.
"Going to see Cristiano Ronaldo means so much to me because I have always loved the sport," said Jaliya Floyd, 12, who wants to be a teacher when she grows up. "This was my first time ever going to a live game."
"I am excited about seeing Cristiano Ronaldo play because soccer is a big sport in my family's native country of Senegal," said Farmata Dia, 12, an aspiring brain surgeon. "I will share this experience with both my family here and in Senegal."