For the children of South Sudan, NBA player Luol Deng, who recently teamed up with Save the Children, is a star on and off the court.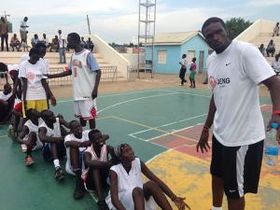 While his resume boasts such famed teams as the Chicago Bulls and the Cleveland Cavaliers, the ballplayer's true passion is to protect vulnerable children suffering through the growing crisis in his home country.
The Luol Deng Foundation and Save the Children have announced today their partnership to provide critical child protection services for the 2.5 million South Sudanese children who are at risk of being separated from their families and recruited into armed groups.
"Today I call Chicago, Cleveland and London home, but I never forgot where I came from," said Deng. "I know how it feels to be far from home. I know how it feels to struggle and to be afraid for my life and my family."
Luol Deng kicks off his South Sudan fundraising campaign with a $30,000 contribution to Save the Children. Using his social media channels, including Facebook, Twitter, and Instagram, Deng is encouraging family, friends and fans to join him in supporting this cause and making a donation at www.savethechildren.org/deng.
"I am calling on all of you who have provided me with support and encouragement throughout my career to join forces with me now," said Deng. "Let's create a better tomorrow for the children of South Sudan."
Save the Children is working in South Sudan to help protect vulnerable children by reuniting separated children with their families and providing safe areas for them to play, learn and regain a sense of normalcy as the crisis continues to have a devastating impact on their lives.
"Across the world's youngest nation, too many children are struggling without the basic means to survive. Many are separated from their parents by the fighting or injured in the crossfire," said Carolyn Miles, Save the Children's president and CEO. "The support of donors like the Luol Deng Foundation is critical as it enables Save the Children to keep children out of harm's way so they can have a semblance of normalcy and be kids again."
Since the outbreak of violence in December 2013, the conflict has intensified and displaced more than 1 million people. If the fighting continues, more than half of the South Sudanese population will be in need of humanitarian aid by the end of this year, according to the United Nations.