On the third anniversary of South Sudan's independence, British actress Keira Knightley is calling on the public to support Oxfam's appeal for South Sudan after witnessing 'firsthand' the desperate plight of families struggling to survive.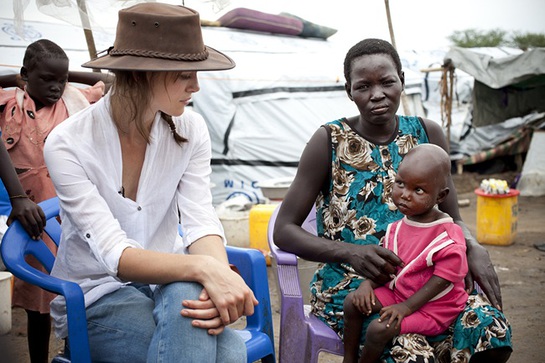 Keira said: "I had no idea what to expect when I arrived in South Sudan, but what I saw and heard was worse than I could have ever imagined. All of those I met were suffering a terrible trauma unbearable to comprehend. I spoke to women who have lost their husbands and children within months of one another. They are now alone trying desperately to get through each day struggling to provide enough food and water to keep them and their remaining children alive."

Since the conflict broke out in December 2013, more than 1.5 million people have been forced to leave their homes in search of safety. Most people fleeing with just the clothes on their backs, leaving behind possessions, crops and livestock with no means to buy food, water or other vital essentials. South Sudan is Africa's worse crisis with nearly 4 million – a third of the country's population – at risk of severe hunger. The UN has warned that if the aid effort does not increase 50,000 children could die from malnutrition.

Last month, Keira travelled with Oxfam to Bor camp, Jonglei State, one of the most affected areas of South Sudan. Here, like in other camps people are living in atrocious conditions and walking knee deep in mud and water. Poor sanitation has already taken many lives through the spread of disease, ever increasing with the seasonal heavy rains.

Keira continues: "The people I met are facing a relentless crisis of war, hunger and disease. I saw the amazing work Oxfam are doing day in and day out to ensure that people have safe water to drink, and food to eat, but the situation is getting worse and resources are running out. I met just a few of the thousands of families who are desperately trying to survive each day but they can't do it alone, they need our help."

As the humanitarian situation deteriorates, with famine a real threat in the coming months, Keira is helping shine a light on this crisis in support of Oxfam's urgent appeal to provide food and water to thousands of families who are in desperate need.
Mark Goldring, Oxfam Chief Executive, said: "We are grateful to Keira for travelling with Oxfam to see for herself the devastating nature of this crisis, and the terrifying situation facing the people of South Sudan – just three years after their nation's independence.

"This is a country at tipping point. We will be staring into the abyss and fail to avert a famine if funds do not start arriving soon to help the people of South Sudan at risk of starvation, disease and violence.

"The people of South Sudan need an end to the fighting, but with peace talks stalled there is little hope of a swift end to the conflict. In the meantime, Oxfam are working tirelessly to reach thousands of people with food and water but there are thousands more need our help. For the sake of our common humanity we cannot look away at this time of crisis."

People can donate here.
Source: Oxfam.org.uk