The Hollywood and Malibu communities rallied together on Sunday, July 20, to raise $600,000 for the California Wildlife Center (CWC) at a fundraiser hosted by Oracle founder Larry Ellison and his girlfriend, animal activist and philanthropist Nikita Kahn.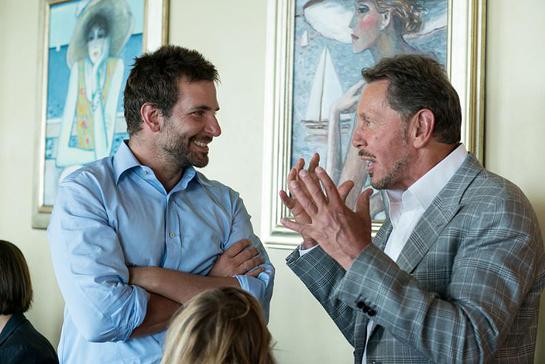 The "Appreciating the Wild" event, which took place at Ellison's beachside restaurant Nikita Malibu, generated urgent awareness for the critical issues facing California's wildlife population.
"Recently, we had a lot of very young seals come up on the beach in Malibu because they were too small and weak to feed themselves," Kahn says. "The California Wildlife Center came to the beach, picked them up, fed them, and cared for them until they were big enough and strong enough to be released back into the wild. I didn't even know an organization like that existed. I was so impressed with how they responded to the emergency, I decided I had to get involved."
Sunday's fundraiser, which featured a call-to-action by Kahn, screened four moving films produced by Audrey Cavenecia, Ellison's collaborating brand executive. The videos were filmed on-site at the CWC's facility, which is located just above Malibu in the Santa Monica Mountains. Performances by David Foster, Charles Perry, and Fairground Saints concluded the evening.
The CWC is a non-profit organization that rescues and rehabilitates sick, injured, and orphaned native wildlife ranging from seals, deer, and hawks to bobcats, foxes, and opossums. Because of the challenges local animals are facing, including pollution, urban encroachment, and reduced food supplies due to overfishing, the CWC's work is crucial in supporting a balanced ecosystem.
The CWC opened in 1998 with the intention of serving 200 animals per year, but is now helping close to 5,000. The money raised at the event will build a much-needed new facility and surgery center at an alternate location that will allow the organization to not only take in animals it is currently turning away due to space restrictions but also work with additional species such as bears and mountain lions.
Among those who lent their support at the event: Ellison's daughter and film producer Megan Ellison; film director Kathryn Bigelow; actor Bradley Cooper and his girlfriend, Suki Waterhouse; surfer Laird Hamilton and his wife, Gabrielle Reece; filmmaker Nash Edgerton; business magnate Haim Saban and his wife, Cheryl Saban; TV personality Elizabeth Chambers; NetSuite founder Evan Goldberg; film producer Donald Kushner; TV producers Angela Robinson and Alexandra Kondracke; Nobu restaurant co-founder Meir Teper; CAA agent Brian Siberell; and Gersh managing partner Leslie Siebert.
Wildlife is an integral part of Ellison's plans for nurturing a compassionate, sustainable future on Lanai, the Hawaiian island that Ellison purchased the majority share of in 2012. The Lanai Documentary Film Festival, which will host its inaugural event in 2016, will showcase short and feature-length documentaries focused on pressing global issues, with animal welfare being among the key topics covered.
Source: PR Newswire