The inaugural Las Vegas luxe charity event, The Coach Woodson Las Vegas Invitational, began its three-day affair with a series of festivities that began Sunday, July 20, with appearances by several of Coach Michael Woodson's close friends.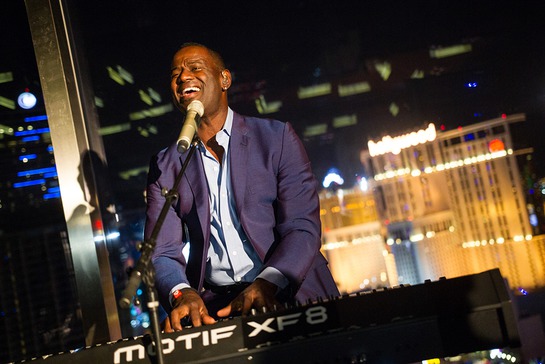 Guests included comedian and Food Network TV host Anthony Anderson, R&B recording artist Brian McKnight, ESPN SportsCenter anchor Jay Harris, LPGA golfer Seema Sadekar, former professional golfer Nisha Sadekar, NBA legends Herb Williams and Reggie Theus, Minnesota Timberwolves assistant coach Sidney Lowe, former basketball player Wayne Radford, Indiana State assistant coach Marcus Belcher, music executive Chauncey Bell, saxophonist Paul Taylor, as well as American football stars Jonathan Ogden, Bret Lockett and Dale Moss.
Woodson's wife, Terri, and daughters Alexis Woodson and Mariah Woodson showed their love and support throughout the three-day event. Leaders in sports, music and entertainment congregated to benefit Nations of Coaches, a 501c3 nonprofit organization.
The event began with a bang at the CIROC Celebrity Welcome Party, where the official Twitter Mirror dominated the red carpet, as Coach Woodson and his wife tweeted selfies to their friends from @CoachWoodsonInv. Celebrity personal trainer Rolo Hendricks sent out a personalized tweet saying, "Best wishes, Coach!" while Lockett tweeted, "XO!" and Brian McKnight sent out an autographed selfie to Twitter followers. Guests were in awe as Coach Woodson's daughters, Alexis and Mariah arrived looking stylish in their colorful cocktail dresses. The assistant coach of the Sacramento Kings, Dee Brown, crashed the red carpet with the 2014 Summer League Championship Trophy – and the crowd was thrilled by his surprise visit!
On the final day of the celebrity get-together, the athletes and Hollywood stars arrived at Southern Highlands Golf Club bright and early for an 8 a.m. shotgun start. Recognized by LPGA as "the most stylish and flamboyant player on tour," Seema Sadekar conquered 18 holes of golf with Herb Williams. The young golf goddess even encouraged saxophonist Paul Taylor to just have fun, as the tournament was his first time playing golf. Comedian and host of Food Network's "Food Fest Nation" Anthony Anderson stole the show at The Coach Woodson Las Vegas Invitational when he initiated a game of Twister with his teammates and shouted, "Right hand on red!" which caused the tangled golfers to laugh and collapse.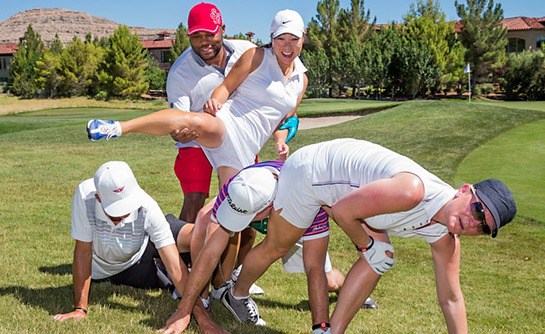 The day became more exciting when ESPN SportsCenter anchor Jay Harris made a hole-in-one shot and won a Range Rover Evoque. Still ecstatic about the win, Harris recently tweeted, "My first ace. Still in shock. @CoachWoodsonInv #par3holeinone #iwonarangerover#vegas #6iron190yards."
The golf, fashion and entertainment luxe soiree was the first of its kind. Throughout the three-day event, guests of The Coach Woodson Las Vegas Invitational relaxed at Mandarin Oriental, Las Vegas while enjoying Magnifico sparkling wine and Luxury Lites electronic hookah.
Although all celebrities were paired up with registered players who flew from all over the country to celebrate Coach Woodson and his success, Brian McKnight, according to sources, decided to play his own game of golf at his own pace – but kept a smile on his face the entire day.