During the weekend, Boys & Girls Clubs of America (BGCA) launched Great Futures: the Campaign for America's Kids by taking over Times Square, the Web and communities nationwide with a powerful message – "When school's out, Clubs are in."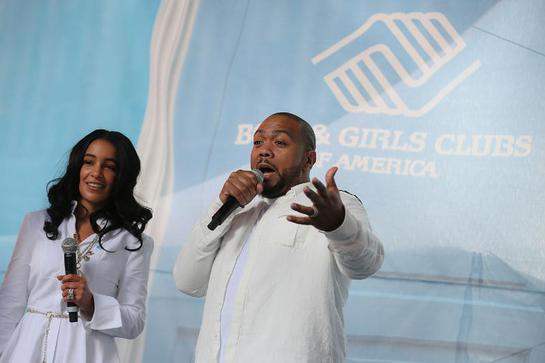 The day's activities celebrated the Campaign, the largest in BGCA's 100-year-plus history, which calls attention to the critical role of after-school and summer programs in helping kids reach their potential.
"Today, we launched an unprecedented Campaign in an unprecedented way. From Times Square to the Web to Main Street, Boys & Girls Clubs sounded the alarm to galvanize the nation in support of kids," said Jim Clark, President and CEO for Boys & Girls Clubs of America. "America's youth are facing serious issues, so we're elevating an often-overlooked part of the solution: out-of-school time. Through today's events to mark the start of the Campaign, Boys & Girls Clubs across the country joined together to advocate for kids and garner support for critical after-school and summer programs."
Times Square Takeover

The launch kicked off with a special rally featuring celebrity guests, high-profile supporters and Club kids, hosted by entertainer and Club alum Nick Cannon. The event featured a pop-up performance by Grammy Award-winning artist and fellow Club alum Ne-Yo. Ne-Yo took the stage after a collective countdown to 3 p.m. to symbolize the time when the school bell rings and kid are in need of after-school programs.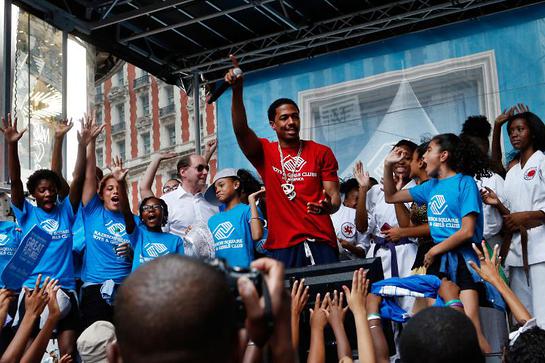 Other Boys & Girls Club alumni and supporters who joined the rally included Yankee star pitcher CC Sabathia, Olympic great Jackie Joyner-Kersee, music artist Estelle and entertainer Adrienne Bailon. Reinforcing the vital impact of Boys & Girls Clubs in helping kids pursue their dreams, the event featured performances from talented Club youth, including singing, dancing, karate and African drums, as well as crowd-pleasing entertainment by the Radio Disney Road Crew. Thousands celebrated with Boys & Girls Club kids, partners and supporters at Times Square while hundreds of thousands worldwide joined the excitement by viewing the event live online, courtesy of Comcast/NBCUniversal.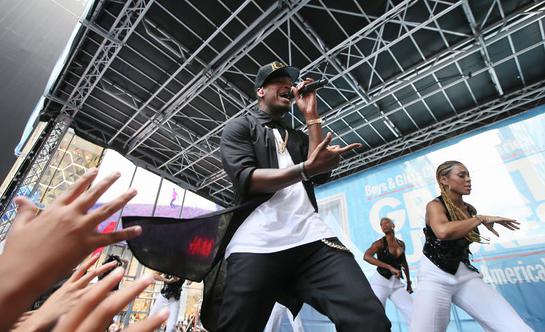 During the event, Timothy (Timbaland) and Monique Mosley (a Club alumna) issued a #Great Futures $1 Million Match Challenge through their Always Believing Foundation to inspire the public and their peers in the entertainment, corporate and philanthropic communities to take action and provide support. Now through Sept. 15, all donations made at greatfutures.org will be matched dollar-for-dollar up to $1 million.
Bell Heard 'Round the Web

The Campaign kick-off was amplified through an innovative digital disruptor called the "School Bell Heard 'Round the Web." BGCA's partners, supporters, brand ambassadors and celebrity alumni helped to spread the word through social media to create awareness and drive action. Many partners also featured Campaign messaging on their websites and audio/visual displays, including Pandora and AT&T, which interrupted its programming to broadcast the Boys & Girls Club message.


BGCA's celebrity alumni and ambassadors, including LeBron James, Ashanti, Michael Phelps, Kelly Rowland, Timbaland and Nick Cannon, also took to social media to show their support. In total, the Campaign's digital and social efforts reached hundreds of millions during the launch.

Traditional media also helped to galvanize the 3 p.m. moment. Utilizing BGCA's compelling new public service announcement, media partners such as Comcast/NBCUniversal, Disney, and RadioOne delivered a strong message urging the public to support programs that keep kids safe and engaged during out-of-school time. Additionally, the event in Times Square featured a take-over of a number of billboards at "the crossroads of the world" to call attention to the issue and engage passersby to take action.
Launch Across America

The Great Futures Campaign launch activities extended beyond the Big Apple with activations around the country. BGCA took the Campaign for America's Kids to Capitol Hill, engaging a number of congressional leaders to participate in the Campaign launch and spread the message via their social media channels.
Across the country, thousands of Clubs activated the Campaign in their communities with events and rallies as well as grassroots marketing and advertising efforts. These included the Boys & Girls Clubs of Greater Fort Worth, Texas, hosting an event to "Take the Roof Off the Club" in the Fort Worth Sundance Plaza and more than 160 members of the Boys & Girls Clubs of Chicago rallying in the downtown area and taking over the Great Hall at Union Station with a choreographed dance.
Partners Champion the Cause

Joining Boys & Girls Clubs for this historic launch were more than 55 corporate and media champions who made the historic launch possible. These supporters included: Founding Great Futures Partners The Coca-Cola Company; Deerbrook Charitable Trust; Disney; Taco Bell Foundation for Teens; Toyota; The Wallace Foundation; WellPoint Foundation; Robert W. Woodruff Foundation; and University of Phoenix; as well as Great Futures Philanthropists the Mosleys along with Larry and Collette Young; and Premier Media Partners Comcast/NBCUniversal and Disney.
"We're calling on America to join us in creating more great futures for kids. It's not too late – with the Campaign launch, we're just getting started," said Clark. "This is a call to action to individuals as well as the public, private and nonprofit sectors. Together, we can change America's future by opening the door for kids during out-of-school time. Visit GreatFutures.org to learn more, find a local Club and get involved."
For more information about the Great Futures Campaign and our supporters, visit GreatFutures.org or #GreatFutures.
Source: PR Newswire