Staples and global pop music superstar Katy Perry continue to "Make Roar Happen" in Philadelphia, Pa. today by announcing 223 local classroom projects have been funded as part of Staples' $1 million donation to DonorsChoose.org.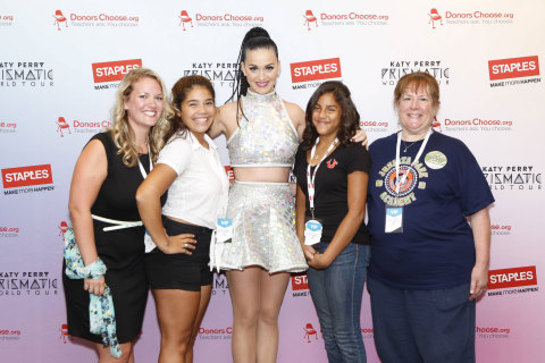 Staples fully funded the balance of every project that was on DonorsChoose.org in the city of Philadelphia, Pa. this week. This $135,581 donation helped 174 teachers fulfill classroom needs and helped 23,536 students in the Philadelphia community. For example, Barbara Janas at G& Hunting Park will receive a circular teaching table so her students can interact and communicate better; and Caitlin Matyas at Arts Academy-Benjamin Rush High School will receive lab equipment like cars, ramps and photogates to help students further investigate studies in mechanics.
"I'm glad to partner with Staples on my Prismatic World Tour to raise awareness and funds for DonorsChoose.org, and to remind my fans that a small gesture can have a huge impact on the very basic materials classrooms need for teachers to help students reach their full potential," said Katy Perry.
Staples and Katy Perry teamed up to "Make Roar Happen" and support teachers. Through the "Make Roar Happen" program, Katy Perry will help Staples raise awareness of how to help teachers with a $1 donation either in store or on Staples.com. As part of the program, Staples, the presenting sponsor of the North American leg of the Katy Perry Prismatic World Tour, donated $1 million to DonorsChoose.org, a charity which has helped fund more than 450,000 classroom projects for teachers and impacted more than 11 million students. $135,581 of that donation went to Philadelphia classrooms today.
"We are so thrilled to have Katy Perry supporting 'Make Roar Happen' and look forward to working together with DonorsChoose.org to ensure teachers have the supplies they need," said Alison Corcoran, senior vice president, North American stores and online marketing, Staples. "Our recent survey found almost three-quarters of parents with teens agree that teachers in their communities inspire their students so it's imperative we support these everyday heroes."
Additionally, the survey revealed that 76% of parents of teen students believe that a lack of school supplies is a significant challenge for schools today. Most teachers spend an average of $408.71 of their own money each year to provide supplies and materials for their classrooms. Customers are invited to help 'Make Roar Happen' for local teachers by donating $1 to DonorsChoose.org at nearby Staples stores or online at www.staples.com/makeroarhappen. The proceeds will benefit teachers in the supporters' communities and will help fund local classroom projects listed on DonorsChoose.org.
"The tremendous support Staples and Katy Perry have provided to DonorsChoose.org through 'Make Roar Happen' has made a great difference in classrooms across the country," said Charles Best, Founder and CEO, DonorsChoose.org. "We understand the financial hardships teachers in the Philadelphia area face when it comes to providing their classroom with the right resources. Thanks to Staples and Katy Perry, local teachers are able to get what they need and 'Make Roar Happen' in the classroom."
For more info, click here.