A huge number of stars helped out at the Los Angeles Mission End Of Summer Block Party this weekend.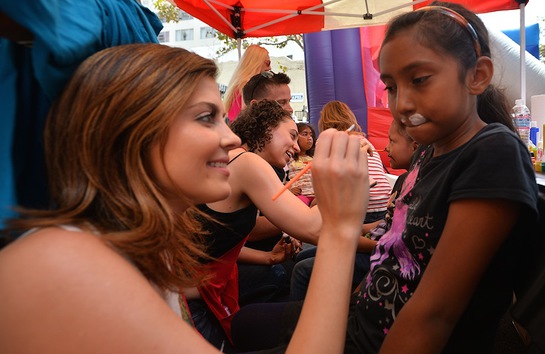 A national survey indicates that school supply prices have jumped again this year, significantly outpacing the rate of inflation. That means it is even more difficult for poor families ­ especially those living in the Skid Row area of Los Angeles, to prepare their children for school this year.
According to the National Retail Federation, school supplies will cost $581 for elementary students. The cost rises to $682 for middle school students and $683 for high school students, up an average of 5% from 2013.
But the Los Angeles Mission has encouraged generous donors to help bridge that gap. Today, nearly a thousand children received backpacks full of school supplies and other goodies in the Mission¹s annual End of Summer Block Party Saturday.
"We're here to give the children a much-needed chance to have some fun," said Herb Smith, president of the Los Angeles Mission. "But there is a serious side to this back to school event. We want to encourage these children to insist on going to school. Through no fault of their own, children suffer the consequences when families find themselves without a home. School attendance is a key predictor of success in life. We want the best for these little ones. So this annual event has come to mean a lot to the Los Angeles Mission. And, for the last 14 years, it has been a fun time for all."
Some thousand backpacks full of schools supplies were handed out to school-aged children on Saturday. The day was the result of a combined effort by nonprofits, businesses and people who just wanted to help children and families get the help they need.
In order transform the mean streets into a safe place to play; the Los Angeles Mission closed 5th Street in front of the Mission. Inflatable bounce houses, giant slides, and kid-friendly games and crafts, along with a dunk tank, were set up for the kids to enjoy. The goal is nothing less than giving some fun to kids who don¹t get the chance to have very much fun. And, it is an exceptional, life-giving experience for those who volunteer.
For more than 78 years, the Los Angeles Mission has been helping the addicted and the poor who lose themselves in the Skid Row area. What started as a soup kitchen in the Great Depression in 1936 continues to serve the newly needy in 2014.
U.S. Bank has provided substantial financial support for this event.
"Our employees are excited to volunteer for the Los Angeles Mission at its End of Summer Block Party. Like in the past, they enjoy distributing backpacks and school supplies to the children to help them get a great start to the school year," said Sean Foley, president of U.S. Bank in Southern California. "In addition to the 'tools for school', U.S. Bank will donate $25,000 to Los Angeles Mission for its End of Summer Block Party. This is an event that is great for the children, their families, teachers and the community."
Much-needed financial support also came from ExakTime, the high-tech innovative time clock company.
"It's so great to give back to the community and the kids," said Scott Prewett, an ExakTime founder. "We thank the Los Angeles Mission for giving us the opportunity to make a difference in a significant way." ExakTime applauds the Mission's many successful efforts to bring help, hope and opportunity to our city¹s needy families.
All school-aged children from age 4 to 17 were eligible to receive a backpack. Nearly 1,000 backpacks and the school supplies that are so vitally necessary for the start of school were distributed. Supplies including pencils, notebooks, crayons, erasers, folders and arts & craft items were donated to fill the backpacks. Jackson-Hewitt and Office Depot contributed a variety of back-to-school items. While Amcor provided utensils and the necessary supplies for the meals.
The Los Angeles Fire Department brought their fire fighting equipment with fire safety information for adults and kids alike.
Celebrity volunteers are always a big part of every Los Angeles Mission event. Once again this year, celebrities worked their magic to make sure that everyone had a good time. They helped Block Party participants enjoy a tasty picnic of good food from three of L.A.'s popular food trucks: In-N-Out Burger, King Taco and The Grilled Cheese Truck.
Among the stars were Jen Lilley, Brandon Molale, Brandon Tyler Russell, Dylan Riley Snyder, Kwesi Boakye and many more.
In addition, volunteers from the marketing firm, Russ Reid, provided treats to families in the form of refreshing snow cones.
Several hundred volunteers from all over the greater Los Angeles area gave of their time to make this event happen. Tens of thousands of volunteer hours are given by the many thousands of Mission volunteers each and every year.
The famous "Nickel" – ­ the name that Fifth Street has had ever since the Mission was founded back in the 1930's -­ was closed to automobile traffic by 6:00 AM. Vehicular traffic was re-routed around the street between Wall and San Pedro so the street party set up could get started by early Saturday morning. That's when families started arriving so they could get a place in line and still have plenty of time for food and fun before getting their back to school backpacks.
Representatives from the Los Angeles Christian Health Centers and volunteer nursing students from all over the area provided health screenings including height and weight, body mass index calculation and nutrition information.