Ten-year-old Sasha Bogosian, who has cerebral palsy, first began designing and painting denim as therapy. On Saturday, for the first time, her designs donned a fashion runway with celebrity supporters, including host Paris Hilton.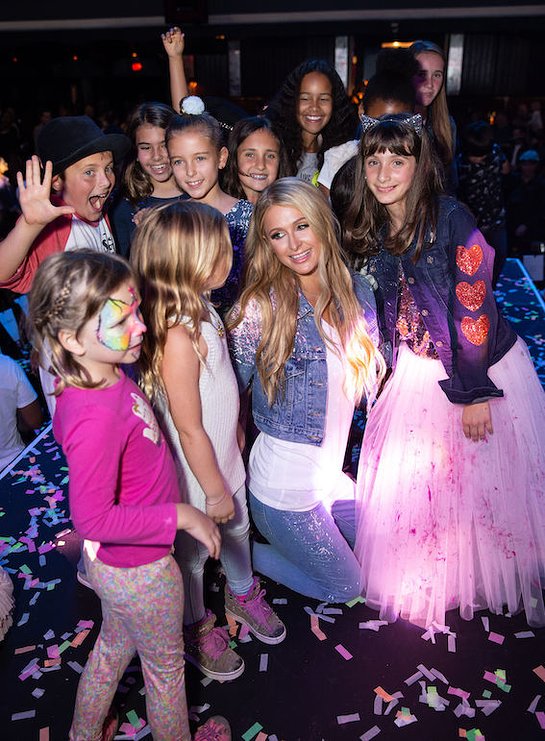 Bogosian began creating custom denim designs in an effort to raise funds for Children's Hospital Los Angeles (CHLA), where she receives treatment and care. Her foundation, The Sasha Project LA, has raised $35,000 to support the Mark Taper-Johnny Mercer Artists Program at CHLA, with a goal of giving thousands of kids like her access to art therapy.
Celebrity supporters and patients treated at children's hospitals on Saturday modeled Bogosian's one-of-a- kind splatter painted Levi's denim collection in Saturday's Rock the Runway event, presented by Children's Miracle Network Hospitals, which raises fund and awareness for 170 children's hospitals across North America. The runway designs were paired with Elisa style necklaces from jeweler Kendra Scott.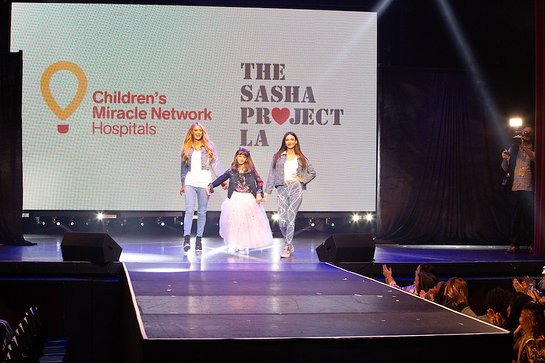 International businesswoman, designer, model and humanitarian Hilton hosted the show. She has been delivering smiles to patients at Children's Hospital Los Angeles for years and the impressions the kids have made on her heart will stay with her forever. "I always enjoy spending time with inspiring Miracle Kids and their families. I was honored to host Rock the Runway which combined my love of fashion and my passion for philanthropy. I know the hard work, creativity and dedication it takes to create your own fashion line, and I'm so proud of Sasha Bogosian for using her talents as a fashion designer to create looks for the show. It was amazing to see the adorable and inspiring kids walk down the runway and they all did such a great job! It was really nice to see so many people come together to raise funds and awareness for local children's hospital and to be a part of making Sasha's dream come true," Hilton said.
"CHLA is awesome! Everyone there is so nice. Children's Hospital is always there for me and helps me get stronger! Rock the Runway was such an amazing experience. It was incredible to meet Paris Hilton and I'm so grateful to her for hosting our fashion show and helping us spread the word about the care that millions of kids like me receive at local children's hospitals every year.," said Bogosian, whose love for self-expression through art and her passion for fashion inspired her to raise funds for her children's hospital, helping patients heal through art. Her designs have been worn by Jessica Biel, Kristen Bell, Katy Perry, Jack Black, Jamie Foxx, Zendaya, Kelsea Ballerini, Rachel Zoe, Allison Holker-Boss, Stephen "tWitch" Boss and more.
Hilton welcomed guests to Rock the Runway, and she shared how visits to CHLA over the years have had a profound effect on her. Guests enjoyed a performance by "America's Got Talent" semi-finalist and children's hospital patient Christian Guardino, who treated the crowd to a soulful rendition of "What's Going On" by Marvin Gaye. Then, Hilton introduced Bogosian and her mother, Isabell, who spoke about the inspiration behind their foundation and their goal of helping thousands of other children's hospital patients.
Rock the Runway kicked off with a beautiful tribute video to the ten incredible Miracle Kids featured in the fashion show set to the song "This Is Me" from the film "The Greatest Showman." Miracle Kid Chloe Davison (Medford, Oregon) opened the show with actor Boris Kodjoe ("Station 19" and "House of Cards"). Actor Nicole Ari Parker ("Empire" and "The Romanoffs") rocked a blue cobalt hoodie and gray paint splattered 711 skinny jeans while walking the runway with Guardino (Philadelphia, Pennsylvania) who was wearing cobalt blue paint splattered Levi's 502s with a black tee. Miracle Kid Joe Joe Coles (Jacksonville, Florida) and Ray Donovan" star Brian White danced down the runway with tons of swagger to Bruno Mars' hit "Uptown Funk." "Younger star" Charles Michael Davis and Miracle Kid JaKiah Collins (Littlerock, Arkansas) showed off their dance moves.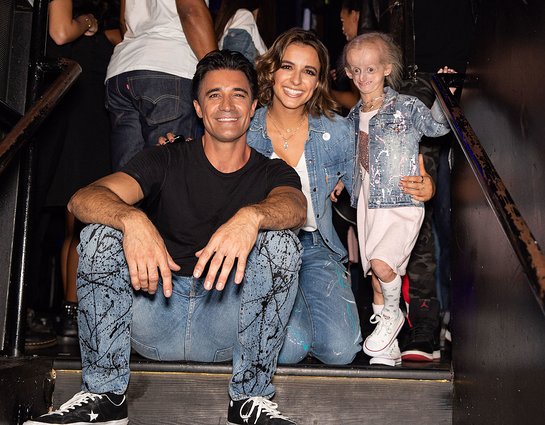 Miracle Kid Nate Ferrell (Gainesville, Florida) rocked paint splattered Levi's 511s in gray with white splatter, and a green hoodie while reunited on the runway with his friend, critically acclaimed award winning electronic violinist, Lindsey Stirling who was wearing paint-splattered Levi's overalls. Miracle Kid Teddy Moore (Queens, New York) walked the runway with Disney star Navia Robinson ("Raven's Home"). Dancing With the Stars" pro Keo Motsepe and Miracle Kid Matteo Gurrero (Springfield, Oregon) wowed the audience with their signature moves. Miracle Kid JaKiah clad in a paint splattered Levi's denim vest, sequins skirt and lavender tee and "Dancing With the Stars Juniors" contestant Sophia Pippen were so fierce as partygoers cheered them down the runway.
Country music star and actor Jana Kramer debuted her beautiful baby bump while strolling down the runway with Miracle Kid Carly Kudzia (Toledo, Ohio). Miracle Kid Marlee Davenport (Indianapolis, Indiana) and "This Is Us" star Mackenzie Hancsicsak clad in a Levi's trucker jacket with the word "happy" sponge painted on the back, danced down the runway to Justin Timberlake's hit song "Can't Stop the Feeling." Disney Star Skai Jackson ("Bunk'd") showcased a Levi's trucker jacket, with a large paint splattered heart on the back of it, over a cotton dress while her Miracle Kid runway buddy Chloe wore a paint splattered Levi's trucker jacket over a pink cotton dress. Nicole Williams of E!'s hit show "WAGS" and Miracle Kid Christian dazzled on the runway. Miracle Kid Carly took her second stroll down the runway with ESPN host and motivational speaker Victoria Arlen to Meghan Trainor's song "Better When I'm Dancin." Everyone's hearts melted when model, actor & TV host Gilles Marini kneeled down on the runway to hug Miracle Kid Matteo. "Andi Mack" star Luke Mullen and Miracle Kid Teddy got the crowd hyped to "Faith" by Stevie Wonder and Ariana Grande.
Miracle Kid Nate danced down the runway with "Dancing with the Stars" pro Alan Bersten. They were met on the runway by Olympic gold medalist and "DWTS" champion Meryl Davis and Miracle Kid Joe Joe. Meryl and Alan showed off some ballroom moves and then Meryl boogied on down the runway to pose with Joe Joe in their one-of-a-kind looks by Sasha.
The show's finale featured Bogosian rocking a paint splattered tulle skirt with a pink sequins tank and a paint-splattered denim jacket from her collection, while accompanied by Hilton and actor and singer Victoria Justice. Hilton rocked a customized paint-splattered cropped Levi's premium jacket featuring Sasha's signature three glitter hearts on the back. Victoria was wearing a paint splattered 721 mile-high rise Levi's jeans and a Levi's Sherpa trucker jacket. The trio danced down the runway and in the final moments of the show, colorful confetti rained down from the ceiling while the room erupted in thunderous applause. All of the Miracle Kids and celebrities took their final bow on the runway. Sasha received a beautiful bouquet of farm fresh flowers from The Bouqs as she took her fashion designer bow.
The creative teams from Paul Mitchell The School Pasadena and CAO Cosmetics created glamorous hair and makeup looks for the runway show. Trueheart partners Amy and Scott Malin produced, choreographed and directed Rock the Runway, while Hollywood's finest, DJ Kid Fish created the high-energy mix for the fashion show.
In addition to the fabulous fashion show, Hollywood's brightest stars from television, film, music and sports, including Emilie de Ravin, Adam Pally, Larsa Pippen, Blake Horstmann, Jason Tartick, Perez Hilton, Angell Conwell, Brian King Joseph, Kimberly Caldwell, Jordan Harvey, Crystal Hunt, Jen Lilley, Josh Sundquist, Larry English, Lidya Jewett, Odyssey Sims, Tina Campbell, Teddy Campbell, Travis D'Arnaud, Chase D'Arnaud, The Royal Twins and more, spent a fun-filled day with inspiring patients from member hospitals around the country. Children's Miracle Network Hospitals co-founder John Schneider, who is competing on "Dancing With the Stars" came to lend his support and cheer on the Miracle Kids.
The family fun day extravaganza included a caricature artist, face painting, glitter hair braids and a Polite In Public photo booth featuring a custom floral backdrop designed by The Bouqs Company. Partygoers enjoy signature flavors of cotton candy by Love Swirls and delicious My/Mo Mochi Ice Cream. Guests were treated to a gourmet lunch and refreshing juice and tea from Purity Organic. Hydration was powered by AQUAhydrate. The Bouqs Company styled a fashion forward media wall with their gorgeous farm fresh florals at the event to create the ultimate social media moment.
Partygoers participated in the Kendra Scott Mystery Jewelry Pull with 100 percent of proceeds benefiting Miracle Kids. Guests also shopped the latest Kendra Scott styles with 20 percent of purchases going back to Children's Miracle Network Hospitals and The Sasha Project LA.