Tech pioneer and Apple co-founder Steve Wozniak, and GRAMMY-nominated singer-songwriter Jewel hosted the Charitybuzz "Good Evenings" event Monday night at TAO at the Venetian, to raise new, essential funding for Jewel's nonprofit, the Inspiring Children Foundation.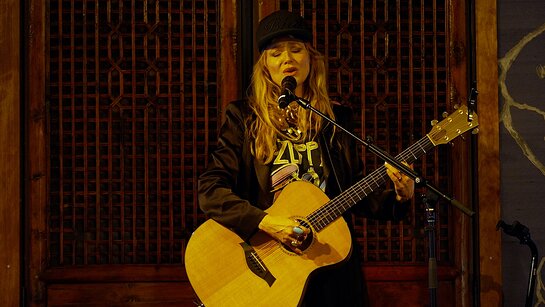 VIP guests at the event included Perez Hilton, tech luminary and CEO of Chegg Dan Rosensweig, Goldman Sachs Chief Medical Officer Neal Mills, and Boom Supersonic Aerospace founder Blake Scholl.
The intimate experience began with Wozniak, his wife Janet, and Jewel welcoming donors to the private Opium Room at TAO. Jewel treated guests to an up-close-and-personal acoustic performance, featuring "Hands" and "No More Tears," amongst other famed and emotionally-inspired pieces. Singer songwriter JP Saxe joined as a special surprise guest, performing "If The World Was Ending."
Accompanying the performances, TAO and co-founder Jason Strauss contributed a first-class dining experience, and Tito's provided signature cocktails as part of the open bar.
"True wow factor. We were able to be part of something bigger than ourselves, and help lift others. Bravo to Steve, Janet, Jewel and the Charitybuzz mission and team," said dinner guest K.S. Dwyer.
Wozniak spent time with each guest, conversing about his life experience, getting to know the Charitybuzz patrons and their successes, and highlighting his personal "recipe for happiness."
As an extra perk, dinner party attendees were offered Jewel's "friends and family" admission to the SCALE Global Conference, taking place May 22-25, at the Bellagio. Along with Jewel and Wozniak, SCALE speakers include Mark Wahlberg, Hillary Clinton, Sheryl Sandberg, Steve Aoki and many more.
"I'm so grateful to Janet and Steve Wozniak for making our Inspiring Children Foundation their official charity," said Jewel. "They put so much time into mentoring and supporting our children. They are the kindest people I know."
Jewel's Inspiring Children Foundation is a 501©(3) organization that supports young people through student-led, restorative physical, mental and emotional health programming. Inspiring Children Co-Founder Ryan Wolfington joined the May 22 Good Evenings event, and spoke about the nonprofit's impact and plans to serve even more young people through upcoming programming. In fact, Inspiring Children Foundation welcomed some of the dinner party guests to their office for a private tour on May 21 to learn more about their mission and approach firsthand.
By partnering with Charitybuzz for this event and online auctions over the past year, Inspiring Children Foundation has been able to connect with dozens of new, generous, motivated donors, and unlock vital unrestricted funding to help fulfill their mission at the highest level.
Charitybuzz's "Good Evenings" events bring together the power of celebrity and the energy of in-person hospitality to offer patrons once-in-a-lifetime experiences that unlock important funds for charitable organizations. To learn more, please visit charitybuzz.com.