Leonardo DiCaprio hosted his first gala for the Leonardo DiCaprio Foundation last month.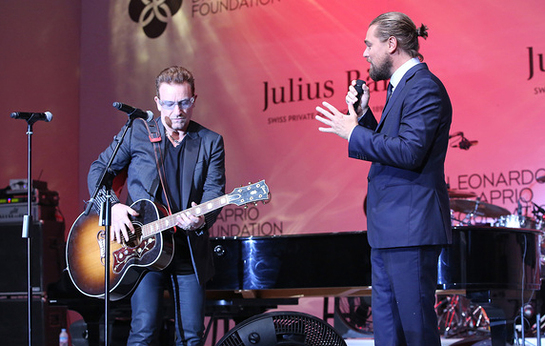 The Gala – co-chaired by Philippe Cousteau and Jared Leto along with the presenting sponsor Julius Baer and co-sponsor Chopard – raised over $25 million for The Leonardo DiCaprio Foundation, dedicated to protecting Earth's last wild places and implementing solutions to build a more harmonious relationship between humanity and the natural world.
Leonardo DiCaprio opened the evening with an impassioned speech about the Foundation's work and stated, "Today we stand at the 11th Hour – facing a tipping point of environmental crises unprecedented in human history. Not since the age of the dinosaurs have so many species of plants and animals become extinct in such a short period of time. We must now make an effort to protect the rich biodiversity that could allow nature to eventually recover. The good news is there are solutions to these massive problems. Efforts like tonight will start addressing them."
DiCaprio proceeded to open the live auction with his own Harley-Davidson Motorcycle signed by Martin Scorsese, Robert De Niro and himself.
Bono took the stage with Julian Lennon, and took down the house with their own rendition of "Stand By Me." Bono stayed on stage to auction off his personal guitar for $1 million.
The highest bid of the night was for a Damien Hirst sculpture, "Golden Myth" which was sold to Len Blavatnik for over $6 million.
Source: LeonardoDiCaprio.com