Bailee Madison (known for her roles on Just Go With It, Once Upon a Time, and most recently on ABC Family's The Fosters) has teamed up with Closets for Causes to raise money for Alex's Lemonade Stand Foundation, a nonprofit dedicated to finding cures for all kids with cancer.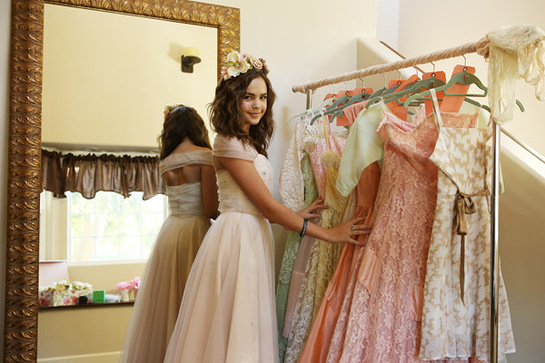 The young actress is donating eight vintage dresses from her 14th birthday party. In attendance was Bailee's long time friend and former X Factor contestant, Rachel Crow. The singer wore a vintage pink lace dress that Bailee picked out for her which is available in the sale as well.
"I'm so happy to partner with Closets For Causes where I can continue to support Alex and her family to raise awareness of childhood cancer one lemonade stand at a time." says Bailee about Alex's Lemonade Stand.
Alex's Lemonade Stand Foundation (ALSF) emerged from the front yard lemonade stand of cancer patient Alexandra "Alex" Scott (1996-2004). In 2000, 4-year-old Alex announced that she wanted to hold a lemonade stand to raise money to help find a cure for all children with cancer. Since Alex held that first stand, the Foundation bearing her name has evolved into a national fundraising movement, complete with thousands of supporters across the country carrying on her legacy of hope. To date, Alex's Lemonade Stand Foundation, a registered 501c3 charity, has raised more than $75 million toward fulfilling Alex's dream of finding a cure, funding over 375 pediatric cancer research projects nationally. For more information on Alex's Lemonade Stand Foundation, visit AlexsLemonade.org.
"It has been an honor to have the continuing, and unwavering, support of Bailee Madison," said Liz Scott, Co-Executive Director of the Foundation and Alex's mom. "Serving as the Foundation's National Youth Spokesperson, Bailee has gone above and beyond the call of duty, hosting her own lemonade stands, attending Foundation events, visiting hospitals on our behalf, and now opening her own closet for the cause. As is evidenced through her immense support, she is making an impact in the battle against childhood cancer."
Bailee talked about her birthday party, vintage dresses and donating the pieces to Alex's Lemonade Stand when she appeared on The Tonight Show with Jay Leno late last year. The video can be seen here.
Along with the eight vintage dresses that will be auctioned off, Bailee is also offering a uniquely curated experience for one lucky bidder; a chance to meet Bailee and have lunch with her in Los Angeles.
Bailee's auction will be live on closetsforcauses.com on Monday August 25th at 10 am PST.