On Wednesday, August 27, Mayor Eric Garcetti, Councilmember Paul Koretz and the City of Los Angeles commended Stand Up To Cancer (SU2C) by presenting a resolution declaring Friday, September 5 as the official "Stand Up To Cancer Day" in the City of Los Angeles.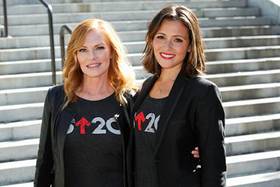 Mayor Eric Garcetti and Councilmember Paul Koretz honored Stand Up to Cancer (SU2C) – which was represented by Stand Up To Cancer Ambassador Marg Helgenberger and star of ABC Family's Chasing Life, Italia Ricci as well as Council of Founders and Advisors (CFA) members Lisa Paulsen, Ellen Ziffren and Kathleen Lobb. Press conference participants also included additional Los Angeles elected officials.
Following the press conference, SU2C representatives also made a brief presentation at the City Council meeting.
Stand Up To Cancer's live one-hour commercial-free fundraising event which airs live on Friday September 5 8pm ET/7pm CT will feature performances from top recording artists and celebrities from film and television, engaging viewers with powerful stories of remarkable progress being made by SU2C-funded research. Oscar-winning actress Gwyneth Paltrow and Emmy-winning producer Joel Gallen, president of Tenth Planet Productions, will join the SU2C Production Team as executive producers.
This star-studded appeal will continue to build public support to accelerate the pace of groundbreaking translational research that can get new therapies to patients quickly to save lives and make cancer patients long term cancer survivors. SU2C brings together scientists from different disciplines across institutions and international boundaries to work collaboratively on promising new treatments that will impact a wide range of cancer types. The one-hour fundraising event will be simulcast live and commercial-free on ABC, CBS, FOX, and NBC, along with ABC Family, American Forces Network, Bravo, Cooking Channel, Discovery Fit & Health, E!, Encore, Encore Espanol, EPIX, ESPNews, FOX Sports 2, FXM, HBO, HBO Latino, ION Television, Lifetime Movie Network, Logo TV, MLB Network, National Geographic Channel, Oxygen, Palladia, Pivot, SHOWTIME, Smithsonian Channel, Starz, TNT and VH1.