When it comes to a great pair of shoes, Ivanka Trump is an expert. As a successful businesswoman and entrepreneur, she knows that power shoes can help a woman feel like she is ready to conquer the world. This year, Trump is digging in her heels to help fight breast cancer through her involvement with QVC Presents "FFANY Shoes on Sale."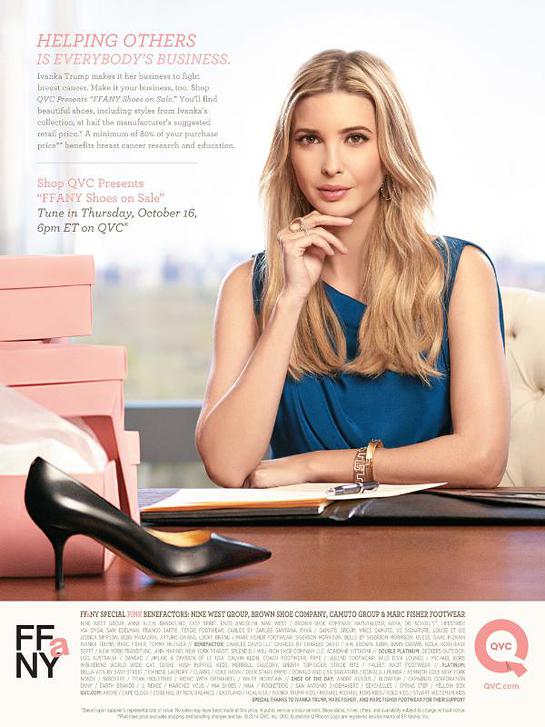 A charitable collaboration between QVC and the Fashion Footwear Association of New York (FFANY), QVC Presents "FFANY Shoes on Sale" has generated more than $44 million to date. During the month of October, donated shoes from over 80 brands will be offered at amazing prices to benefit breast cancer research and education. The event is scheduled to air live on QVC Thursday, October 16 from 6 PM to 9 PM (ET), and Trump has taken a step out of the boardroom to appear in both print and television public service announcements supporting the cause.
"I am honored to be part of this important initiative, and I find it incredibly rewarding to help women come together for this significant reason, through something we all love… shoes," commented Trump. "Breast cancer, unfortunately, impacts so many lives, but it is liberating and comforting to know that we can help fight back and tackle it one step at a time."
During the three-hour broadcast event, shoppers can choose from more than 200 styles being offered at HALF the manufacturer's suggested retail price. In addition, each weekday from 7 AM to 9 AM (ET) during the month of October, buyers can shop the Shoe of the Day on air, online or on the QVC apps. A minimum of 80 percent of the purchase price will benefit various breast cancer research and education institutions. Select styles from the Ivanka Trump footwear collection are scheduled to be included in the assortment.
"Ms. Trump's dedication and enthusiasm both inside and outside of the boardroom are outstanding," said Ron Fromm, FFANY's president and CEO. "We are thrilled to have her as our spokesperson and know that she will help draw people to the cause."
"In addition to success in both the business and fashion worlds, Ivanka's philanthropic spirit is admirable," said Mike George, president and CEO of QVC. "As someone who routinely gives back through various charities, she brings a unique perspective to this year's event. I think her passion will be contagious, allowing shoppers to feel even more empowered by their purchases knowing that they can help make a difference."
Beneficiaries for the 2014 QVC Presents "FFANY Shoes on Sale" event include: The Abramson Cancer Center of the University of Pennsylvania, The Breast Cancer Research Foundation, The Samuel Oschin Comprehensive Cancer Institute at Cedars-Sinai Medical Center, The Susan F. Smith Center for Women's Cancers at Dana-Farber Cancer Institute, The University of Michigan Comprehensive Cancer Center's Breast Oncology Program, The University of Pittsburgh Cancer Institute, The Winthrop P. Rockefeller Cancer Institute of the University of Arkansas for Medical Sciences, The Alvin J. Siteman Cancer Center at Barnes-Jewish Hospital and Washington University School of Medicine, and The Margie and Robert E. Petersen Breast Cancer Research Program at the John Wayne Cancer Institute at Providence Saint John's Health Center.
Those wishing to support cutting-edge research at these organizations can go to www.ffany.org to make contributions and find out ways to join in and be part of this important effort.
Source: PR Newswire