By Misty Schwartz on
Project Green 501c3 Founders Kim Kreiss and Patryjca Siewert-Towns were grateful to Festival Producer Jay Freedman for choosing Project Green 501c3 to be one of the charity partners for his Huntington Beach Art, Food & Music Festival last weekend.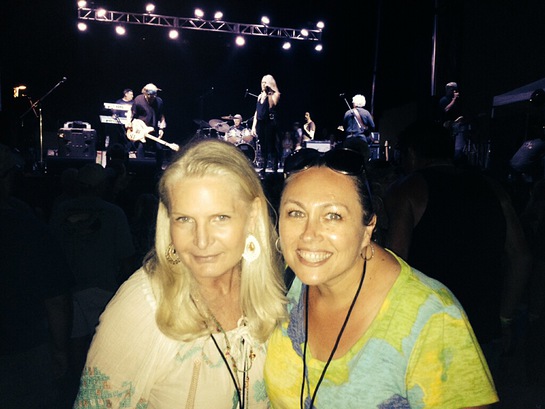 Highlights of the amazing festival included music producer David Pack who led a super group band that backed up legends Al Stewart, Gary Wright, Bill Champlin (Chicago), Mike Reno (Loverboy), Kelly Keagy (Night Ranger), John Elefante (Kansas), Dave Jenkins (Pablo Cruise), Bobby Kimball (Toto), Jim Peterik (Survivor) among others. This was the largest known collective performance of legendary 70's and 80's stars on one stage, ever!
The Huntington Beach Food, Art & Music Festival featured other chart-topping artists including: Mark McGrath, Jefferson Starship and Michelle Branch. There were national award-winning BBQ rib teams straight from The BBQ Championships in Reno, Nevada, representing more than 10 states and Canada, showcasing their finest culinary selections to taste. Foodies experienced some of the best food trucks that Southern California had to offer, as well as many other delicious local treats.
One hundred juried artists selected through an extensive process showcased a wide variety of talents and mediums including jewelry, painting, woodworking and photography.
Sponsors included: Rolaids, Coca-Cola, Sara Lee Snacks, Club Cornbread Cracker Bites, Coors Light, Huntington Beach Chamber of Commerce and Huntington Beach Art Center, with media support from K-Earth 101, OC Weekly and 94.7 The Wave.
Project Green 501c3 Founders Patrycja Siewert-Towns and Kim Kreiss have perfected the ultimate entertainment lounge when it comes to raising awareness in the green community in conjunction with their charity! Project Green 501c3 is fully funded by donations from individuals, businesses, and foundations. Any and all donations are accepted and welcomed! Project Green continuously does outreach to help generate recognition as well as drive donations. Project Green is a registered 501c3 non-profit based in Atlanta, Georgia whose mission is to preserve green space for future generations by building eco-friendly summer camps for the underserved and fostercare system kids. "Help Us Help The Kids".