Prince Harry praised the unconquerable character of injured servicemen and women and their families as his Invictus Games ended with a fantastic music concert.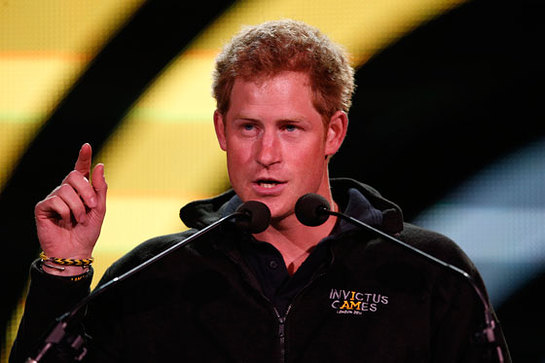 His words were echoed by The Queen who sent a message of support to the competitors, describing how she had been "deeply moved by your courage, determination and talent".
After staging the Olympic Games, Paralympics and Commonwealth Games, Prince Harry said the nation had once again put on a successful sporting event with the Invictus Games – "It's what we do and damn we do it well."
More than 400 competitors from 13 nations took part in the four-day championship and during the concert, staged in the former Olympic Park, the men and women – many with missing limbs – paraded on to the stage to receive a medal commemorating taking part in the games.
Towards the end of the show, Prince Harry told the sell-out crowd of more than 25,000: "These games have shone a spotlight on the 'unconquerable' character of servicemen and women and their families – their invictus spirit."
The Prince has been the driving force behind the games after being inspired by a similar project in the US called the Warrior Games.
He said: "These games have been about seeing guys sprinting for the finish line and then turning round to clap the last man in. They have been about team-mates choosing to cross the line together; not wanting to come second, but not wanting the other guys too either.
"These games have shown the very best of the human spirit."
In keeping with the ethos of the games, medal totals have not been officially produced but the UK won more than 55 golds.
Prince Harry stressed that after the games many of the competitors would need jobs but they should receive the same treatment they had before their injuries, and be viewed "with respect, admiration and recognition of their considerable talent."
The Queen's message, read to the crowds by her grandson, said: "As I have followed the competition over the past four days, I have been deeply moved by your courage, determination and talent.
"All of you have used the power of sport to enhance your own recovery and to raise wider awareness of the enormous challenges faced by wounded veterans."
The audience, which included Harry's former girlfriend Cressida Bonas and Princess Eugenie, enjoyed a concert featuring the Foo Fighters, Kaiser Chiefs, The Vamps, Rizzle Kicks, James Blunt, Ellie Goulding, Ryan Adams and Military Wives Choir.
Prince Harry has said he will end the night by having a birthday beer with Britain's team captain double-amputee Dave Henson as both men turn 30 this week.
The ex-Army officer, who retired from the military in March, won gold in the 200 metres and a team gold in the seated volleyball in front of a screaming Copper Box arena crowd.
Mr Henson said: "In terms of Britain's performance I'm feeling pretty ecstatic."
The former soldier, who lost his legs when he was blown up by an improvised explosive device (IED) in Afghanistan's HelmandProvince in February 2011, added: "What we wanted to achieve was this recovery, this positive mental attitude through participating in sport."
He said that the emotional response of the foreign forces' families to the welcoming crowds at Wednesday's opening ceremony had made the games worthwhile.
Mr Henson said: "The sport from Thursday to now is the icing on top of the cake, you could see on Wednesday night that Prince Harry's aim had already been achieved by the opening ceremony, because people had already gained that recognition, that support they needed."
Source: www.princehenryofwales.org