Emmy- and Golden Globe-nominated actress and advocate Kerry Washington has joined with The Allstate Foundation to raise awareness about domestic violence and the critical role that financial abuse plays in domestic violence situations.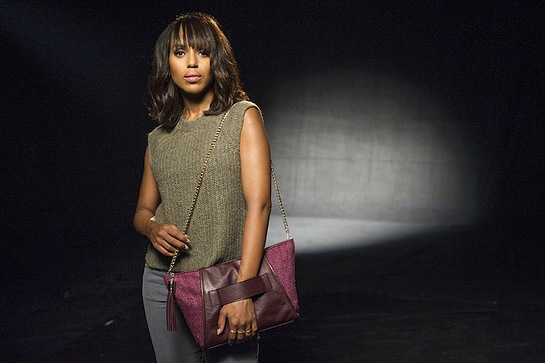 Washington is serving as the national ambassador for Allstate Foundation Purple Purse, the signature initiative that gets Americans motivated to combat domestic violence.
Washington's role as ambassador includes designing a limited-edition purple purse that will be distributed among community leaders, Allstate agency owners, Purple Purse community partners that work directly with survivors, celebrities and media to raise awareness for the cause. The purse represents the center of a woman's financial domain and purple is the color of national domestic violence awareness. The Allstate Foundation is also distributing Purple Purse charms through Purple Purse Challenge participants to attach to a bag or purse and show support year-round. Washington also filmed a special Public Service Announcement featuring the purse and creating a call to action for Americans to get informed and involved.
"A purse is where a woman's power lives. I am really proud of this bag, and having the opportunity to design a fashion statement that carries such an important message," said Washington. "Financial control is almost always a weapon of choice for abusers because when a victim's access to cash is taken away or her credit is destroyed or even her employment is jeopardized, it becomes nearly impossible for her to leave."
"The Allstate Foundation wants to make it acceptable — even fashionable — to talk about domestic violence. Only by pulling back the curtain and getting involved can we ensure that victims can escape to a safer and brighter future," said Tom Wilson, chairman, president and CEO of Allstate. "It shouldn't take a high-profile incident in the news for us to rise up and take a stand against domestic violence. For far too long, this issue has remained in the shadows. We need to stop enabling criminals – by not letting money be a weapon of choice that, when combined with physical abuse, becomes a living nightmare for so many women in America."
The Allstate Foundation also released the results of a survey, Silent Weapon: Domestic Violence and Financial Abuse, to understand the attitudes Americans have about violence in relationships and the financial control that usually accompanies physical abuse.
Findings from the survey include:
• Nearly eight in 10 Americans (78 percent) say they have not heard much about financial abuse as it relates to domestic violence. Additionally, Americans think that financial abuse is the least likely (3 percent) form of abuse to be recognized by an outsider.
• Sixty-five percent don't believe that their family or friends would know if they were in a financially abusive relationship and 70 percent can't say they would know how to help them.
• Only 39 percent of women have taken steps in their own relationship to protect themselves from financial abuse.
• Hispanics (51 percent) and African Americans (49 percent) are twice as likely to see domestic violence as a serious problem among people they know than their white, non-Hispanic counterparts (25 percent).
• Hispanic parents (58 percent) and African American parents (52 percent) have discussed domestic violence more frequently than white non-Hispanic parents (43 percent).
For additional information on the survey visit www.purplepurse.com.
To raise more awareness, The Allstate Foundation is encouraging the public to participate in a Purple Purse Challenge by donating to local nonprofit organizations that support financial empowerment services for domestic violence survivors. The Challenge is already underway at PurplePurse.com and has raised nearly $500,000. The Allstate Foundation will contribute nearly $650,000 in incentive funding and direct grants to participating organizations in the Challenge. The more donations each nonprofit collects, the more incentive funding the organization can compete to win from The Allstate Foundation. The Challenge continues through Oct. 3, 2014.
Visit PurplePurse.com to learn more about domestic violence and financial abuse as well as how to start conversations about this important topic. For immediate assistance with a dangerous situation, call the National Domestic Violence Hotline at 1-800-799 SAFE (7233) or TTY 1-800-787-3224.
Since 2005, The Allstate Foundation Domestic Violence Program has empowered domestic violence survivors with resources, knowledge and skills they need to achieve financial empowerment and a life free from abuse. Since its inception, the program has helped nearly 400,000 domestic violence survivors leave abusive relationships through financial education, job training and readiness and microenterprise programs.
Source: PR Newswire