One of Hollywood's most captivating young actresses, Amanda Seyfried, is so enamored with her canine sidekick, Finn, that she frequently posts photos of his escapades across her social media channels and has him accompany her on talk shows.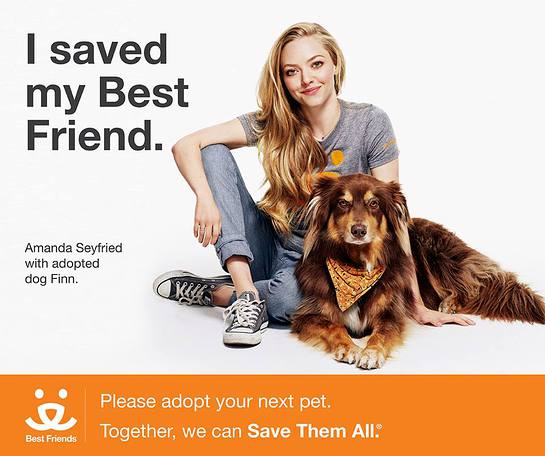 Finn's presence on social media and appearances on shows including The Late Show with David Letterman have resulted in the dog becoming a celebrity in his own right with his own Twitter account and more than 13,000 followers. Finn's new-found fame is just fine by Seyfried who wants to remind people that amazing dogs and cats are available for adoption at their local animal shelter.
Seyfried is the latest celebrity to join Best Friends Animal Society's Save Them All campaign. She joins Danny Trejo, Carrie Ann Inaba, Denise Richards, Nils Lofgren, Josef Newgarden and other
luminaries participating in Best Friends' photo campaign featuring celebrities posed with their personal rescued dogs and/or cats in support of the Save Them All call to action.
"My dog, Finn, is my best friend. I honestly can't remember what life was like before he came into mine," Seyfried said. "I can't bear to imagine the thousands of incredible dogs and cats that are killed in shelters every single day simply because they don't have homes. When you adopt, you not only save a life, but you end up with an amazing friend. Please adopt your next pet from a shelter or a rescue group. By working together we can Save Them All."
From her upcoming movies "Ted 2" and "Pan" set for release in 2015, to her memorable roles in "Mama Mia!", "Les Miserables," "Mean Girls," and the HBO series "Big Love" as well as her beauty and luxury product endorsement deals, Seyfried is a recognizable face across television, film, entertainment news and talk shows, and beauty and lifestyle publications. But the many faces of Finn and his ability to balance everything from broccoli to a burger and even a baby duck on his head has earned him accolades such as the "joy of Instagram" and "America's hidden treasure."
According to national statistics, each day more than 9,000 dogs and cats die in the nation's shelters. Best Friends has brought increased awareness to how people can get involved in the solution by adopting, and spaying/neutering their pets, donating, volunteering and sharing this message with their friends.
Find out how you can Save Them All here.