Award-winning British singer-songwriters Kate Nash and Leona Lewis have joined with bunny lovers from all over the world to say, 'Bunnies are for cuddling, not cosmetics testing".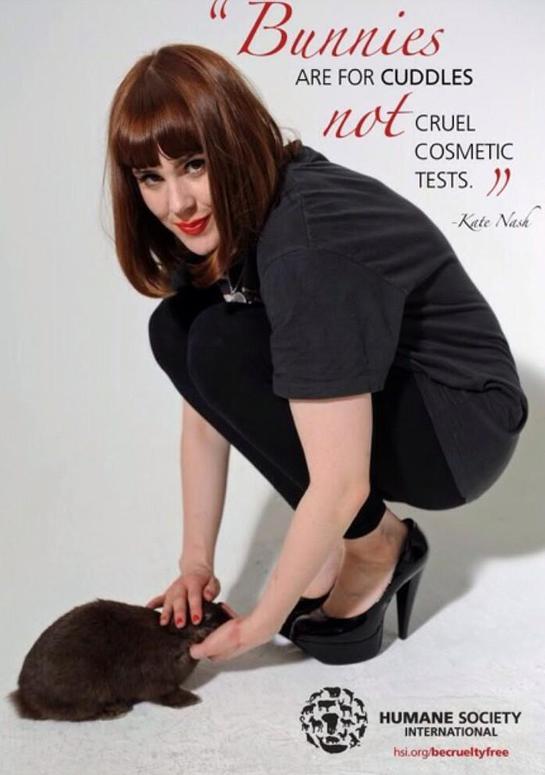 The stars donated bunny selfies in support of Humane Society International's #BeCrueltyFree campaign for a worldwide end to cosmetics testing on rabbits, guinea pigs, mice and other animals.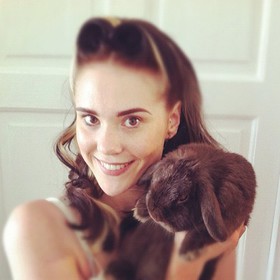 Kate tweeted a photo of herself with Fluffy: "My bunny Fluffy is my best friend. I love her so much, and I'd never let anyone hurt her. It's so sad to think that there are thousands of rabbits just as lovely as Fluffy, trembling in laboratories as chemicals are dripped in their eyes to test cosmetics. Bunnies are for cuddling, not cruel cosmetics testing. That's why Fluffy and I support HSI's #BeCrueltyFree campaign. Let's end testing cosmetics on animals once and for all!"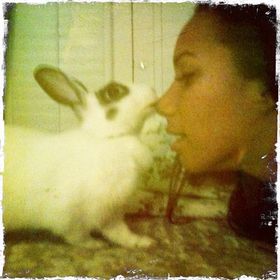 Leona tweeted a selfie of herself and Melrose sharing a kiss: "I want bunnies to #BeCrueltyFree with @HSIGlobal let's end cosmetics cruelty!" The Glassheart singer also recently posted an article on her Lee-Loy Blog about her desire to see a global end to cosmetics animal testing.
Leona's blog reads: "Ending animal testing is also about getting laws changed, Bills introduced, advancing cutting-edge science, lobbying politicians and grabbing some serious face time in the beauty brand board room to get things changed. And for that you need kick-ass campaigners who know what they're talking about. Our favourite bunny-hugging beauty crusaders are the #BeCrueltyFree campaign from Humane Society International."
Rabbits are commonly used to test cosmetics alongside smaller animals such as mice. In skin and eye irritation tests first developed in the 1940s, rabbits are held in full body restraints so that chemicals can be dripped in their eyes or spread on their shaved skin. These tests are notoriously unreliable as well as cruel.
The European Union, Norway, Israel and India have all banned animal testing for cosmetics, and bans are being considered in Australia, Brazil, New Zealand, Taiwan, and the United States. The #BeCrueltyFree campaign has been a driving force behind much of this global progress.
Hundreds of cruelty-free companies around the world such as LUSH, Lippy Girl and Barry M, produce safe products without animal testing. They do so by using existing ingredients combined with available state-of-the-art non-animal tests.
Say NO to cosmetics cruelty – sign the #BeCrueltyFree pledge and follow #BeCrueltyFree on Facebook.