Thousands of volunteers from across the United States are joining former President Jimmy Carter and his wife, Rosalynn, in Dallas and Fort Worth, Texas, this week to help build and repair homes in partnership with North Texas families during Habitat For Humanity's 31st annual Jimmy & Rosalynn Carter Work Project.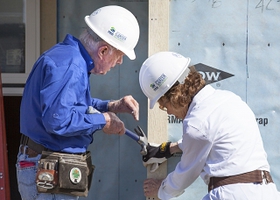 "Rosalynn and I are looking forward to working alongside the Habitat volunteers and partner families this week, and we thank the cities of Dallas and Fort Worth for being such gracious hosts," said President Carter. "We've seen firsthand the transformative effect that Habitat for Humanity can have on a community, and with the help of these many volunteers and the support of local leaders, we'll see it again in Dallas and Fort Worth."
Hosted jointly by Dallas Area Habitat for Humanity and Trinity Habitat for Humanity in Fort Worth, more than 5,000 volunteers will join the Carters to help build or repair more than 100 homes in seven days. In Dallas, volunteers will help build 30 new homes and repair 20 houses in the East Oak Cliff neighborhood. Volunteers in Fort Worth will build 20 new homes in the Central Meadowbrook neighborhood and paint 44 houses as part of the City of Fort Worth's "Cowtown Brush Up."
"We are honored the Carters have selected Dallas to co-host this ambitious event that engages the community in a partnership that is vital to priming our neighborhoods for sustainable revitalization," said Bill Hall, CEO of Dallas Area Habitat for Humanity. "From the millions generated in tax dollars to higher graduation rates, we believe empowering families with opportunities for homeownership is better for everyone, and I challenge North Texas residents to get involved in the transformation of our cities."
"Trinity Habitat welcomes the Carters and volunteers to Fort Worth for the 2014 Carter Work Project," said Gage Yager, executive director of Trinity Habitat for Humanity. "We are honored to host such outstanding Habitat ambassadors and look forward to our week ahead as we transform lives together."
For more than three decades, the Jimmy & Rosalynn Carter Work Project has served as a catalyst for raising awareness about the need for improved access to affordable housing by empowering people to bring hope, stability and housing solutions to their communities. To date, more than 88,000 volunteers have built, renovated and repaired 3,833 homes in 14 countries during the previous 30 annual events, shedding light on the role decent housing provides families in breaking the cycle of poverty.
"Since first volunteering to build with us in 1984, the Carters remain two of Habitat's most prolific and vocal proponents of affordable housing. We are grateful that they will once again partner with us to help build a world where everyone has a decent place to live," said Jonathan Reckford, CEO of Habitat for Humanity International. "We are also grateful to the volunteers, sponsors and supporters who are making this Carter Work Project possible."
This year's Carter Work Project also coincides with Habitat's observance of World Habitat Day. Held on the first Monday of every October, the U.N.-designated World Habitat Day calls attention to the need for adequate housing for everyone by raising awareness and mobilizing people to take action in response to the need of better shelter around the world.
Habitat for Humanity would like to thank the volunteers, partner families and the following sponsors for this year's Carter Work Project: Pioneer Natural Resources, the City of Dallas, Dow, Bank of America, the City of Fort Worth, Lowe's, Amanda and G. Brint Ryan, Albertsons, Alliance Data/Epsilon, Andersen Corporation, Chase, Clear Channel Outdoor, Dallas Lawyers for Habitat, First United Methodist Church Fort Worth, the General Motors Foundation, Grooveshark, Highland Park United Methodist Church, Nissan North America, P&G, TD Ameritrade, Thrivent Financial, Valspar, Wells Fargo and XTO Energy.