Chobani, America's No. 1-selling Greek Yogurt, partnered with FEED, a social business that creates products that help FEED the world, and Chef Marcus Samuelsson in the fight against hunger, hosting a special dinner this week to raise funds for hunger relief in the U.S. and around the world.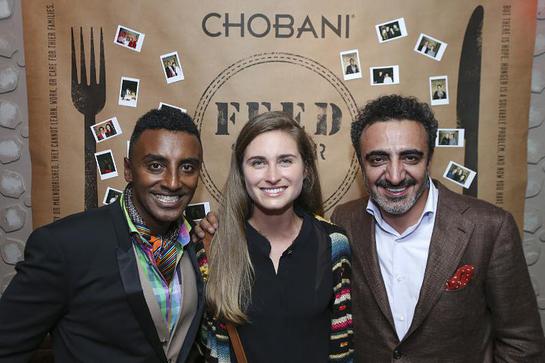 The evening culminates FEED's month-long FEED Supper campaign to provide 1,000,000 meals to children and families in need by today – World Food Day. Throughout the month, the FEED Supper campaign encouraged people around the country to host dinners to raise funds and attention for food insecurity.
FEED's fundraising milestone was shattered, reaching $1.6 million with the help of Chobani's FEED Supper, which raised funds for nearly 100,000 meals. World Food Day is a day of action against hunger when people around the world come together to declare their commitment to eradicate hunger in our lifetime.
Chobani founder and CEO Hamdi Ulukaya, FEED founder and CEO Lauren Bush Lauren and celebrity Chef Marcus Samuelsson co-hosted the event as part of their long history championing hunger relief efforts. The dinner, held at Samuelsson's Harlem restaurant, Ginny's Supper Club, attracted notable attendees in food, fashion, media and philanthropy and featured a special musical performance by jazz musician Jon Batiste and his band Stay Human.
"Providing access to better food is one of our most deeply held values at Chobani, and by working together with Lauren Bush Lauren and Marcus Samuelsson, who share this passion, I believe we can do even greater things to fight food insecurity around the world," said Ulukaya. "In America alone, nearly 1 in 5 homes with children do not have enough food to meet their basic needs and companies, organizations and individuals play an important role in the fight against hunger."
"FEED Supper is about bringing people around a table to support the common cause of fighting hunger, and that's what we did so successfully with Chobani," said Lauren. "I hope this will encourage other companies to join our fight against hunger and to ensure philanthropy becomes a very basic part of doing good business."
"As a chef, fighting hunger is a cause that is extremely close to my heart," said Samuelsson. "It's very exciting to work with two organizations that really understand how to create true positive change and to participate in a night that is completely focused on ending hunger on a global scale."
Chobani has a rich history of supporting hunger relief efforts and other causes through the company's charitable arm, the Chobani Foundation. The Foundation's focus is on democratizing good food and empowering entrepreneurs to transform communities. Through local and national outreach, the Greek Yogurt maker's philanthropic initiatives have supported over 50 groups to date, and have had a direct impact on funding several programs, including famine relief efforts in Somalia, emergency response aid in Haiti, and a state-of-the-art field for Central New York Little Leaguers.
For more information on the FEED Supper campaign, visit feedprojects.com/feedsupper, and follow the campaign on Instagram via #FEEDsupper. And for more information on the Chobani Foundation and how organizations can work together with it, visit Chobani.com/foundation.
Source: PR Newswire