This week in New York City, the Blue Jacket Fashion Show founded by fashion designer Frederick Anderson and marketer, Laura Miller, united the worlds of fashion, entertainment, sports, and healthcare to drive an open dialogue about the impact of prostate cancer.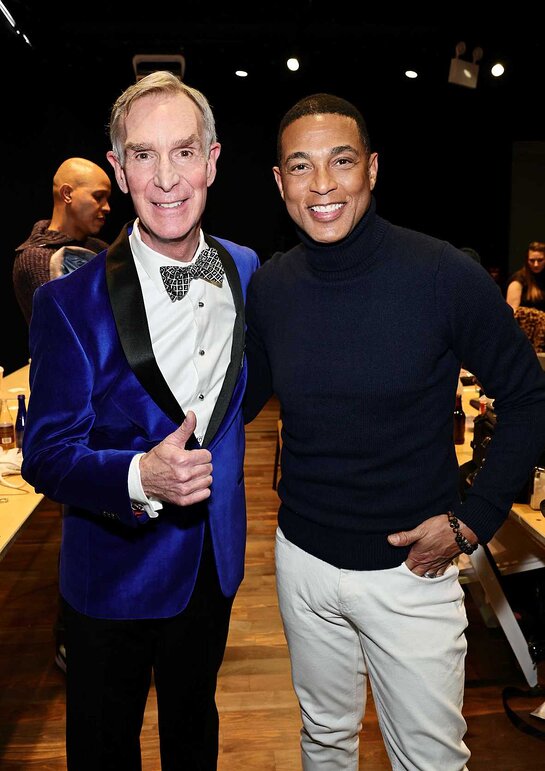 Now in its seventh year, the fashion show featured notables including Mario Cantone, Andy Karl, Alex Lundqvist, Bill Nye, Carlos Greer, Clinton Lord, Dominic Fumusa, Don Lemon, Don Hood, Dr. Bradley Schaeffer, Dr. Evan Goldfischer, Dr. Ash Tewari, Eric West, Frank DiLella, James Aguiar, James Andrew, Kris Bennett, Les Trent, London Brown, Louis Finley, Marcus Samuelsson, Mike Woods, Musa Jackson, Nigel Barker, Omar Hernandez, Richard Thomas, Souleymane Sy Savane, Ty-Ron Mayes, Tyrone Brewer and Young Paris modeled the reimagined traditional "blue jacket" down the runway by designers including Arjona Collection, Ben Sherman, Bruno Magli Collezione, Cad & The Dandy, Gustavo Moscoso, Levi's, Maxjenny, Men's Wearhouse, Michael Kors, Nicholas Graham, Son Jung Wan, Stephen F, Thom Browne, and Tommy Hilfiger.
Emerging designers through fashion partner Fashion Group International also debuted one-of-a-kind blue jackets by designers Carlos Campos, Epperson, Peyman Umay, Don Morphy, Niyi Okuboyejo, Loris Diran, and Terry Singh, all former FGI Rising Star Award winners and finalists. Now in its 27th year, Fashion Group's signature Rising Star Awards ceremony remains a vital and highly visible platform for professional recognition and celebrating emerging talent in fashion, beauty, business, retail, and related categories.
The event, which continues to elevate prostate cancer awareness, took place at Moonlight Studios and was sponsored by Janssen Oncology, part of the Janssen Pharmaceutical Companies of Johnson & Johnson. The show streamed live on ZeroCancer.org and benefited nonprofit advocacy group ZERO – The End of Prostate Cancer for its efforts to raise awareness through funding to support the prostate cancer community and to improve early detection and reduce mortality.
Other VIPs who were seated in the front row included Carol Alt, Maria Borges, Fern Mallis, Chiké Okonkwo, Orfeh, Davis Burleson, Shomari Love, Menegor Galicia, Mica Hughes, Tashiana Washington, Samuel Mancini, and Britne Oldford.
This year, for the first time as part of this event, community members, event participants, and guests were able to be screened for prostate cancer with a quick and easy prostate-specific antigen test sponsored by Carver Federal Savings Bank and provided by Mount Sinai Hospital in New York City. Morning screenings were held outside of the Schomburg Center for Research in Black Culture and then again at Moonlight Studios ahead of the show.
In addition to live streaming the event at FGI.org, local FGI chapters hosted "viewing parties" in cities including Dallas, St. Louis, and Atlanta. The Dallas event was hosted by FGI Rising Star Don Morphy. Daphne Benzaquen hosted the St. Louis event, and Jerry Buckner hosted the Atlanta viewing party. Attendees wore blue jackets support of the cause.
By Nature Skincare from New Zealand was the exclusive skincare company which provided 2% Hyaluronic Acid Sheet Masks, as well as some of their best-selling products, to the show's celebrity participants and guests. By Nature Skincare is a clean, natural skincare line that blends powerful, highly-concentrated ingredients with globally sourced plant and fruit actives to create simple and effective everyday skincare at super affordable prices.
Following the show, an afterparty was held for participants and guests sponsored by Tao Group Hospitality and Loosie's at the Moxy NYC Lower East Side.
Prostate cancer is one of the most common cancers among American men and is the second-leading cause of cancer death. In fact, thirty-seven percent of new cancer cases in Black men will be prostate cancer. Furthermore, Black men in the U.S. remain 2.1 times more likely to die of prostate cancer than white men. The priority is to encourage men to act and start regular prostate cancer screenings and understand the importance of staying healthy to help them be the best version of themselves they can be – for themselves, their families, and their communities. It can take a village to inspire action like annual check-ups and prostate-specific antigen (PSA) testing.
ZERO – The End of Prostate Cancer is committed to ending racial and health disparities in prostate cancer. Prostate Cancer Racial Disparities Task Force helps focus raise awareness of prostate cancer among high-risk men, focusing on education and early detection, clinical trial advocacy, and financial assistance and patient support. For donations made between January 25, 2023 – February 28, 2023, Janssen Oncology will match those donations up to $10,000. The Fashion Group Foundation has set up the FGI Rising Stars and Blue Jacket Fashion Show Support Zero Cancer fund to secure donations.
The latest guidelines from the American Cancer Society Cancer Facts & Figures 2022 indicate that Black men and those with a close relative diagnosed with prostate cancer before the age of 65 should discuss specific prostate-specific antigen (PSA) screening with a healthcare provider beginning at age 45, and men at even higher risk (those who have several close relatives diagnosed at an early age and those who are BRCA mutation carriers) should have this discussion beginning at age 40.
Visit ZERO – The End of Prostate Cancer to learn more about – and donate to – the Black Men's Prostate Cancer Initiative, which provides direct aid to Black and brown communities who are at the highest risk of prostate cancer and are experiencing additional financial and mental distress due to COVID-19.