Canadian rock band Blurred Vision – led by Iranian born brothers Sepp and Sohl Osley, and drummer Ben Riley – will release their debut album "Organized Insanity" under their Open Eyes Records imprint, and will raise money for WhyHunger at their album release concert in Toronto.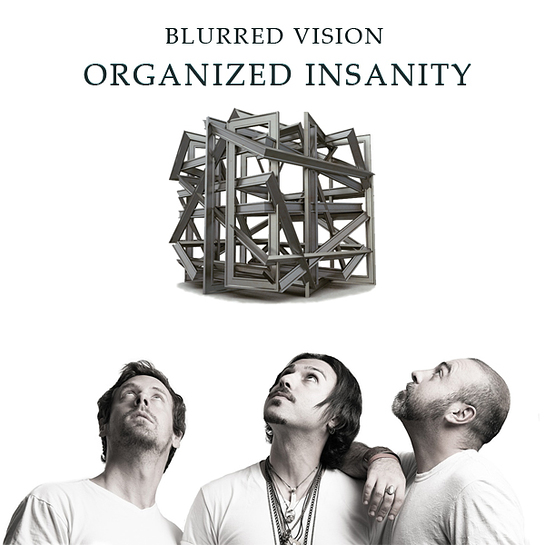 The 11 track album is produced by Terry Brown, most famous for his iconic work with legendary Canadian trio Rush.
"Organized Insanity" drops Tuesday November 25 2014, and will be available internationally as a digital release on iTunes, and other download and streaming platforms with pre-orders available as of Monday October 20, 2014.
The cover art, which the group calls the "Insanity Cube", is the work of renowned designer Hugh Syme who created some of the most memorable Rock album covers from bands including Rush, Aerosmith, Def Leppard and Iron Maiden.
Blurred Vision will be releasing a series of video podcasts anticipating the album's release which includes a live studio performance sneak peek of some of the album tracks and a "round-table chat" with the band.
Blurred Vision's debut "Organized Insanity" delves into issues the band say are "vital to our existence as a Rock 'N' Roll band". The album opens with the track "No More War", an anti-war anthem with an homage to Martin Luther King Jr.. "Organized Insanity" touches controversial themes of war, politics, religion, and the state of the music scene today while at times digging into personal subjects surrounding relationships and love with songs like "Tonight", "Arms Of Our World", and "Wherever You Are" that demonstrate the band's broad songwriting palette. Among the eleven original tunes are two tributes that highlight Blurred Vision's influences; "Dear John", an emotional track written for Beatle legend John Lennon, and "The Keeper", a prog-rock/mid-east fusion with melodies inspired by the Persian mystic poet Hafez and even sung in Persian on the first verse.
Blurred Vision will perform at The Hard Rock Cafe in Toronto on November 23rd, for the Organized Insanity Album Release Concert. Part of the proceeds from the Hard Rock Cafe show will benefit WhyHunger, an international charity organization based in New York City. Blurred Vision are official ambassadors of the charity, who are behind the annual "Imagine There's No Hunger" campaign that kicks off in November, in partnership with Yoko Ono Lennon, and Hard Rock International.
Under the creative direction of acclaimed producer and filmmaker Babak Payami and his Toronto-based Imagisti Creative Studio, Blurred Vision is gearing up for a 2015 album launch concert tour of the U.K, U.S. and Canada. Details of the tour will be announced late 2014.