Grammy and Brit Award singer Joss Stone has teamed up with guitar legend Jeff Beck to record this year's official Poppy Appeal single.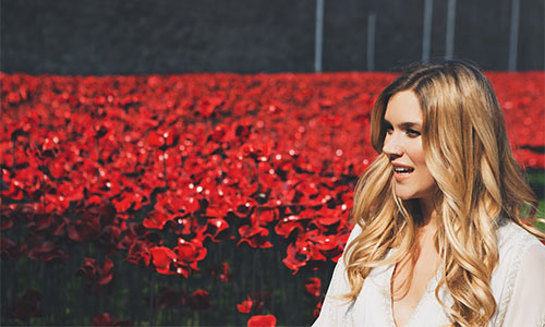 The single is a soulful cover of 'No Man's Land (Green Fields of France)', written in 1976 by Scottish-born folk singer-songwriter Eric Bogle. Reflecting on the grave of a young man (Willie McBride) who died during the First World War, its chorus refers to two famous pieces of military music, 'The Last Post' and 'The Flowers of the Forest'.
Although the song speaks of the destiny of one soldier in particular, the song was chosen by Joss and Jeff because of the way it honestly reflected the terrible fate of so many.
Joss Stone said: "The song is about a soldier, Willie McBride, but when we started looking into who Willie was, we found no less than three men that it could have been – then we realised that finding him was not actually as important as what he and this song stand for, peace and the sacrifice made by so many."
The song, which also includes a full gospel choir, has been given a classic Joss, soul makeover and features the legendry guitar of Jeff Beck. The pair will be performing the track in front of Her Majesty the Queen at this year's Festival of Remembrance at the Royal Albert Hall on Saturday 8 November 2014. The Festival of Remembrance will as usual be televised live on BBC1, following a record 6 million viewers last year.
The Poppy Appeal is The Royal British Legion's largest annual charity campaign. In a little over two weeks, some 45 million poppies will be distributed by 350,000 dedicated collectors with the aim of raising £40 million.
The Royal British Legion's Director of Fundraising Charles Byrne said: "The Legion created the Poppy Appeal to help those returning from the First World War. A century on from the start of that conflict, we're still helping today's Armed Forces families in much the same way, whether coping with bereavement, living with disability, or finding employment.
"The Poppy is more than just a sign of Remembrance it is a symbol of inspiration and hope. We are thrilled that it has inspired two of our country's greatest musical talents to produce such a wonderful tribute to the memory of the fallen and help us raise funds for the future of the living."
No Man's Land (Green Fields of France) was produced by world renowned producers Jon Cohen and Jonathan Joseph. It can be pre-ordered now and will be available to buy from Monday 3 November.
The Legion have also worked with augmented reality app Blippar to produce an interactive single cover. When the cover is Blipped, additional special features such as behind the scenes footage, the music video and personal messages from Joss appear on the user's smartphone.
To pre-order the single, click here.