Tenzin Gyatso, His Holiness the 14th Dalai Lama, opened the 2nd International Symposium for Contemplative Studies (ISCS) in Boston with more than 1400 academics, researchers, practitioners and graduate students present for his plenary on Science and Society.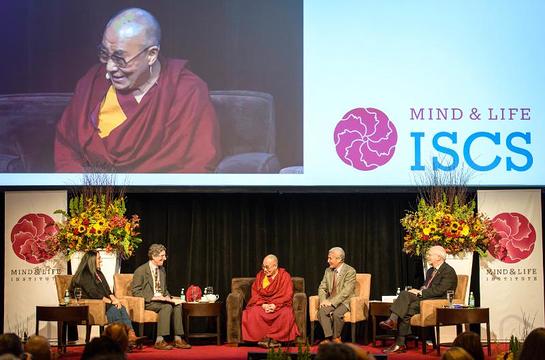 In his remarks, His Holiness challenged the conference-goers with the leading question, "with so many advances over the last 25 years in our research, what more is needed in order for us to integrate contemplative practices into all sectors of society including heath care, education, business and ethics?"
The symposium is put on by the Mind & Life Institute, a Massachusetts-based non-profit, that was founded more than 25 years ago as an intellectual experiment by His Holiness, together with neuroscientist Francisco J. Varela and entrepreneur R. Adam Engle. Mind and Life supports the exploration of and interdisciplinary research into the many facets of contemplative science as a way to better understand the mind. Insights from this research can be used for reducing human suffering and enhancing human well-being.
Mind & Life Institute's President, Dr. Arthur Zajonc, facilitated the plenary discussion between the Dalai Lama, Dr. Richard Davidson from the Center for Investigating Healthy Minds at the University of Wisconsin-Madison and Dr. Amishi Jha from the Center for Contemplative Neuroscience, Mindfulness Research and Practice Initiative from the University of Miami.
In addition to Drs. Davidson and Jha, keynote speakers for the symposium included, Dr. Diana Chapman Walsh, President Emerita of Wellesley College; Dr. David Germano, Director of the Contemplative Sciences Center, University of Virginia; Arianna Huffington, President and Editor-In-Chief of The Huffington Post Media Group; and Dr. Tania Singer, Director of the Department of Social Neuroscience at the Max Planck Institute.
The symposium included master lectures by several distinguished scientists, scholars, artists, and contemplative teachers as well as individual and group presentations of papers, panels, and posters that reflect the most current contributions to the ever-growing field of contemplative studies. Also featured were contemplative art performances and exhibits, as well as continuous contemplative practice opportunities with renowned practitioners such as Sharon Salzberg and Jon Kabat Zinn.
Source: PR Newswire