The Arthur Wylie Foundation (AWF), a non-profit formed by entrepreneur, philanthropist, author, and film producer, Arthur Wylie, has partnered with the Always In The Club Foundation (AITCF) in making a commitment to America's youth.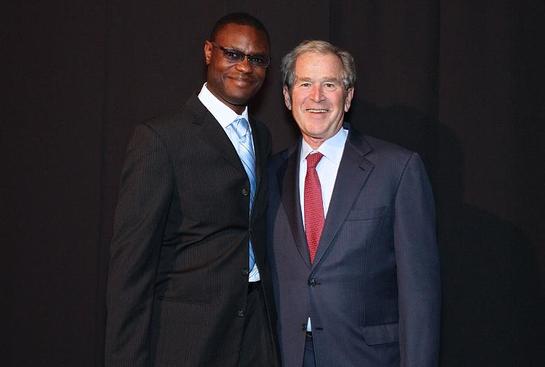 Together AWF and AITCF will make a positive impact by providing scholarships, mentorships, business and entrepreneurship training to stand out individuals from the AITCF Project:Now student group. The Wylie Initiative For The Study Of Entrepreneurship (W.I.S.E.) is a component of a larger collective with other foundations announced at the 10th annual Clinton Global Initiative (CGI) called Project:NOW. The non-profit initiative stresses urgency in addressing the educational needs of youth in underserved communities directly affected by the devastating effects of increased incarceration statistics, high poverty, and failing public school systems.
To help raise funding for the new initiative, Wylie teamed with AITCF, U.S. Dream Academy, PVBLIC Foundation, and sponsor, Amway to hold the Inaugural Legacy Project Dinner. During the event, U.S. Dream Academy presented President George W. Bush with a Legacy Award for being the first U.S. President to raise the issue of children with incarcerated parents to a national level. Past Legacy Award recipients have included President Bill Clinton, Dan Rather, and Cicely Tyson. Hillary Clinton attended the event.
As a component of Project:NOW, the AWF will affiliate with Project:NOW in launching the W.I.S.E. entrepreneurship, leadership-learning curriculum, scholarships, and mentorship programs formed by the AWF and Cherokee Gives Back. Programs will range between 12 and 24 weeks. While partnership with Project:NOW will focus on a national execution to a very specific need, the AWF program will be providing college scholarships, W.I.S.E. curriculum and real-world mentorship experiences to high-achieving pupils worldwide with various social and economic backgrounds. The goal for the Wylie Foundation is to supply necessary academic tools to turn student ideas into sustainable business ventures and leadership opportunities.
"We at the Arthur Wylie Foundation are dedicated to realizing the opportunities that will provide to create and mold the next generation of socially conscience business leaders. I am proud to have joined with our esteemed partners at Project:NOW on this initiative," said founder Arthur Wylie. "Our goal is to provide leadership and education to change the lives of the individuals we influence. It was an immense honor to have President Bush participate in our fundraising efforts. I am grateful that he shares our commitment to philanthropy and education."
Project: NOW was formed by AITCF in partnership with U.S. Dream Academy, AWF, Cherokee Gives Back, and the PVBLIC Foundation. Its mission is to help at-risk youth in America compete in a modern, global economy by implementing new strategies that rapidly respond to needs of struggling readers, and intensive entrepreneurship training courses that help create leaders in the communities that need the most economic help. Project:NOW hopes to meet this challenge before another generation is lost to conventional, ineffective methods of intervention. It will leverage its partners' core competencies, existing infrastructure, and years of hands-on experience to accelerate their current activities — uniquely and relentlessly stressing the urgency of NOW.
For Information on the Wylie Initiative For The Study Of Entrepreneurship, visit: www.aw-foundation.org.