Young people must stand alongside older generations in honouring those who made wartime sacrifices for Britain, The Duke of Cambridge has said.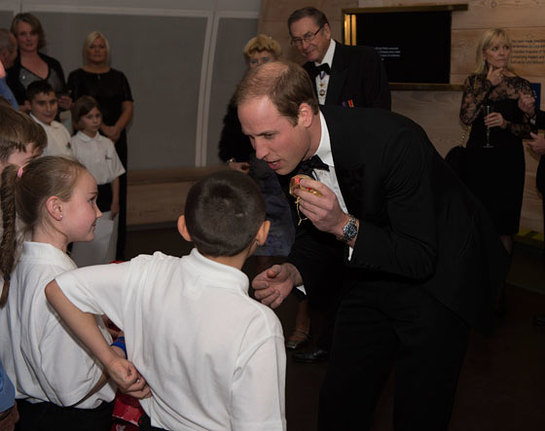 Speaking at a gala dinner in London to mark the 10th anniversary of the charity SkillForce, The Duke of Cambridge said Remembrance "must never become the preserve or responsibility of one generation".
He added: "I was privileged to be able to visit the poppy installation at the Tower of London in its early days.
"Even then, before it was as famous as it is now, the people observing the poppies came from every generation.
"The young there were just as moved as the old. Their grief and thanksgiving for the sacrifice of previous generations was just as real."
He was speaking three days after joining The Queen to lay wreaths of poppies at the Cenotaph in London's Whitehall to commemorate those who have made the ultimate sacrifice.
Since 2009, The Duke has been Patron of SkillForce, which matches former servicemen and women with youngsters – often from troubled backgrounds – to offer them encouragement and inspiration.
He attended the function at the Imperial War Museum to celebrate the launch earlier this year of the organisation's Junior Prince's Award, a programme to help primary-age children prepare for the step up to secondary school through character-building projects and activities.
The Duke of Cambridge met youngsters who were taking part in the scheme and was shown their First World War Remembrance projects.
"It was clear that they, like those children who gather at the Tower of London or at Remembrance Day parades, are grasping something that will instil hopefulness and commitment about a better future in themselves and in their generation," he said. "This is no small achievement."
"Only by pointing to all that Remembrance means can we have any chance of making our society a better place and giving these young people hope, which is the fuel for all the work they will need to do to fulfil their potential."
Source: DukeAndDuchessOfCambridge.org