The Women's Forum of New York hosted The 4th Annual Elly Awards Luncheon this week benefitting The Education Fund of the Women's Forum at The Plaza Hotel in New York City.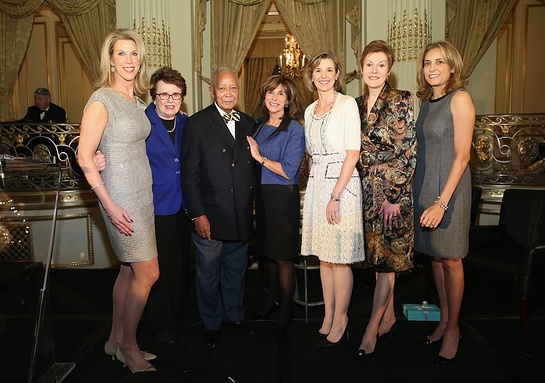 The awards, named for Women's Forum founder Elinor "Elly" Guggenheimer, were presented to outstanding women leaders, Billie Jean King, 39-time Grand Slam winning tennis player and champion of social change and equality, and Sallie Krawcheck, Chair, Ellevate Network and Ellevate Asset Management, and staunch supporter of women in the financial industry.
Over 400 people attended the awards luncheon raising $200,000 for The Education Fund of the Women's Forum. On hand to bestow the key awards were celebrity presenters The Honorable David N. Dinkins, 106th Mayor of the City of New York,; and Karen Finerman, CEO of Metropolitan Capital Advisors, and panelist on CNBC's Fast Money.
"The Women's Forum is a leadership organization of New York's preeminent female leaders in every professional sector, from finance to fine arts. Appreciating that education is the key to success in every industry, we pride ourselves in helping high potential women over the age of 35 return to college after their education has been disrupted by life's adversities. Giving these women a second chance to realize their potential is our way of giving back and building new leaders," said Ami Kaplan, President of the Women's Forum of New York.
"The change that Education Fund grants have on women and their families is truly inspirational. Our awardees redefine for themselves what is possible and become great role models for their daughters. We believe if you educate a woman you impact generations. Twenty-seven years ago we started out small but now, because of the Elly Awards, our education grants are significant and make a real difference. Fifteen fellowships were awarded to help women overcome obstacles and hardship in returning to their higher education to help realize their dreams," said Beverly Beaudoin, President, The Education Fund of the Women's Forum of New York.
Following the awards presentations, Rikki Klieman, attorney, best-selling author, television anchor, and CBS News legal analyst, led an in-depth conversation with the honorees that revolved around leadership, covering a wide range of issues facing women in the workforce today.
VIPs who attended the event included: Ami Kaplan, President of the Women's Forum of New York; Beverly Beaudoin, President of the Education Fund of the Women's Forum of New York; Lucy Jarvis, television producer and Legendary Chair of The Elly Awards; Anne Donovan Bodnar, Co-Chair, the 2014 Elly Awards; Eugenia Ulasewicz, Co-Chair, the 2014 Elly Awards; Carolyn Jane Maloney, U.S. Representative for New York's 12th congressional district; Mary Harney, the former Deputy Prime Minister and Minister of Health in Ireland, and member of the Irish International Women's Forum; and Bill Bratton, New York City Police Commissioner.