Violence against women and girls is a global pandemic that destroys lives, fractures communities and holds back development, United Nations Secretary-General Ban Ki-moon said as the world body marked the International Day to End Violence Against Women.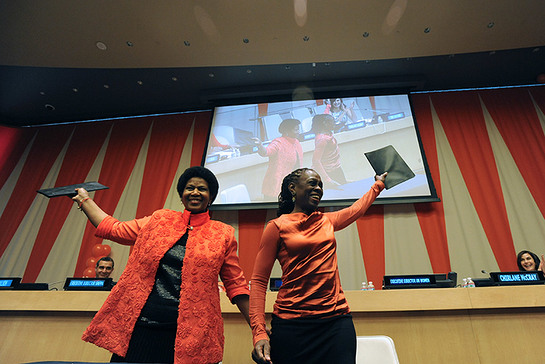 "But violence against women and girls does not emerge from nowhere. It is simply the most extreme example of the political, financial, social and economic oppression of women and girls worldwide," Mr. Ban said at an Economic and Social Council (ECOSOC) event at Headquarters.
Joining Mr. Ban at the panel discussion were UN Women Executive-Director Phumzile Mlambo-Ngcuka; First Lady of New York, Chirlane McCray, and actor Teri Hatcher, among others.
This year's theme of Orange Your Neighbourhood promises grassroots action to raise awareness in local communities. For example, the UN Secretariat building and the Empire State Building were lit orange last night, and many wore orange today to show support and solidarity in ending the scourge that affects one in three women worldwide.
Violence against women is not confined to just one region, political system, culture or social class, Mr. Ban explained. It is present at every level of every society in the world. It happens in peacetime and becomes worse during conflict.
This year alone, we have seen the kidnapping of more than 200 girls in Nigeria; the Indian schoolgirls who were raped, killed and hung from a tree; graphic testimony from Iraqi women of rape and sexual slavery during war; the continued bullying of women on the internet.
Governments, workplaces, universities and sports authorities are stepping up much-needed action to end sexual violence. More than 80 per cent of governments have passed laws on domestic violence and sexual harassment.
However, their implementation is often slow and uneven. And fragile gains continue to be threatened by extremism and a backlash against women's rights.
"It is up to everyone to play their part; women's rights are not only women's business. Men and boys are finally taking their place as partners in this battle. The HeForShe campaign I launched two months ago brings together one half of humanity in support of the other," Mr. Ban said.
Echoing that, UN-Women's Ms. Mlambo-Ngcuka explained that this Day is an opportunity to "shine an orange light" on violence against women that takes place at home, in schools, nations, cities, and villages. She urged for support to confront that "horror" and "extinguish it."
"This is an important moment as the world is getting ready to gear up to the post-2015 plan of action," Ms. Mlambo-Ngcuka said, highlighting that the issue of fighting violence against women will be high on the future global development agenda.
"No culture, no nation, no woman – old or young – is immune to this human rights violation," she added.
"And these women are determined to reclaim their lives," she said, urging that "there is no time for complacency or excuses, the time to act is now."
"We need young people, members of Parliament and political parties, religious and traditional leaders as well as men and boys to play their roles," the UN-Women chief explained.
"We know what works now. The Millennium Development Goals (MDGs) initiative, along with other studies, has generated quite some data and best practices that demonstrate that the importance of protecting women and girls and providing services to those who fall victim to these horrendous crimes."
"We are in a unique position in history and a lot of will among the people of the world to forge ahead and conquer violence against women," she said.
Recalling meeting women who have been victims of violence, Ms. Mlambo-Ngcuka said that she "forever will be haunted by their suffering" but also inspired by their courage.
Source: United Nations