Haley Joel Osment, film star and NYU graduate, joined the Get Schooled Foundation this week at Long Island City High School as part of Get Schooled's College: The Inside Story series.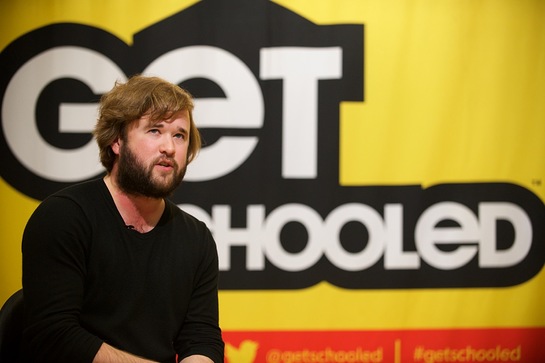 The event included Long Island City High School theatre students as well as seniors from the high school's leadership program. Long Island City High School is one of 60 high schools across New York City partnering with Get Schooled to raise college awareness and application rates. Get Schooled's work in New York City is supported by Capital One Bank.
Haley Joel Osment led a workshop with students to help them explore the power of college and the role of education plays in helping students meet their goals and aspirations. Haley is a graduate of New York University Tisch School of the Arts and an Academy Award nominee. He spoke to a group of more than 100 seniors and theatre students about the importance of college, and the power of education.
"A college education can offer students a transformative series of experiences. Once exposed to the wide variety of people and ideas found on college campuses, students can be propelled to heights they never imagined were possible," said Osment.
According to the New York City Department of Education, an average of only 59 percent of high school seniors will enroll in a college or other postsecondary program within six months of graduation. At the same time, the Georgetown Center on Education and the Workforce predicts that more than two-thirds of newly created jobs over the next decade will require some postsecondary education, whether a technical certificate or two-year or four-year degree.
"As educators, we understand the important role education plays in successfully following your passions, including theatre, "said Maria Argyis, an Assistant Principal at Long Island City High School. "Haley Joel Osment's professional success and his commitment to education gives him a unique perspective. Long Island City High School is honored to have him share his experiences and inspiration with our students."
Get Schooled reaches thousands of New York high school students and hundreds of thousands of students across the country through its digital platform, www.getschooled.com. It has developed a web series, College: The Inside Story, that shares advice and tips for high school students from athletes, entertainers, and other inspirational figures.
Long Island City High School is a participant in Get Schooled's Capital One Bank NYC College Challenge as part of its strategy to support college access. The College Challenge is a friendly competition across 60 high schools serving close to 40,000 students across New York City. It has been designed to encourage high school students to explore college opportunities, apply to college and access financial aid for college. Get Schooled has designed and managed more than fifteen Challenges since the non-profit was formed in 2010. Each Challenge is designed to drive a mix of student engagement and improved student outcomes.
For more information about Get Schooled, its work in New York City and College: The Inside Story series, go to www.getschooled.com.