The Duchess of Cambridge spent a fun evening with a group of Beaver Scouts – and learnt to eat a chocolate bar while wearing a boxing glove.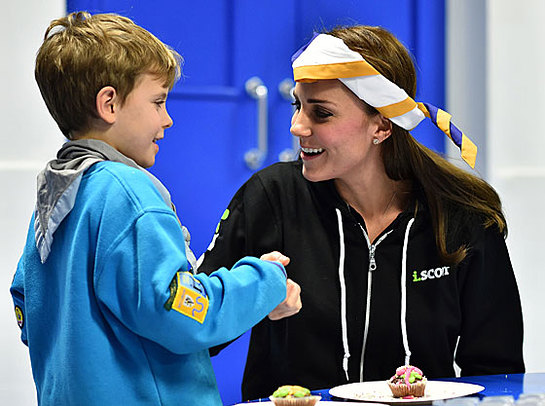 Her Royal Highness, who is an occasional volunteer with the Scout Association, was reduced to giggles as she joined the youngsters who were having a practical lesson in living with a disability.


And she even donned a blindfold and tried to decorate a cupcake with icing while being helped by one of the scouts.
The Duchess had travelled to the Old Ford Primary School in London's East End to act as an assistant at the weekly evening meeting of the 23rd Popular Beaver Scout Colony. Her Royal Highness had come to help 20 six to eight-year-old beavers earn their disability awareness badges and clearly enjoyed the experience of trying to eat a chocolate bar while wearing a boxing glove on her right hand.


She laughed as she first tried to pick up the sweet treat before cutting it up with a fork and when she succeeded put the morsel in her mouth.


Her Royal Highness helped Fynley Gooch, seven, as he tried to decorate a cupcake while blind folded. She guided his hand as he squeezed a tube of icing on to the cake and then he did the same for her when she used her scarf to cover her eyes.


The Duchess later joined a table where some children were learning the sign language for the Beaver pledge "I promise to do my best, to be kind and helpful and to love my world".
She copied a little boy next to her and clasped her hands to her chest as he worked his way through the words.
Double world Paratriathlon champion Steve Judge, whose legs were badly crushed in 2002, spoke to the children about living with a disability.
Her Royal Highness's visit was in support of the Scout Association's new landmark campaign, Better Prepared.
Better Prepared will see The Scout Association working with local communities to open new Scout groups in 200 areas around the country where Scouting can have the biggest impact. The aim is to ensure that even more children have the chance to experience fun and adventure through Scouting, while developing skills that will help change their lives.
Before leaving The Duchess of Cambridge presented disability badges to the children.
Beaver Scout leader Carlos Lopez-Plandolit said of The Duchess's visit: "It was really good, it was amazing, she's naturally gifted with children – I think she had a great time.
"I think the kids were really spontaneous, as kids are, and they helped her be part of the evening."
Source: DukeAndDuchessOfCambridge.org