The Duchess of Cambridge this week visited Barlby Primary School in London to officially name Clore Art Room, a facility dedicated to providing creative therapy to young people.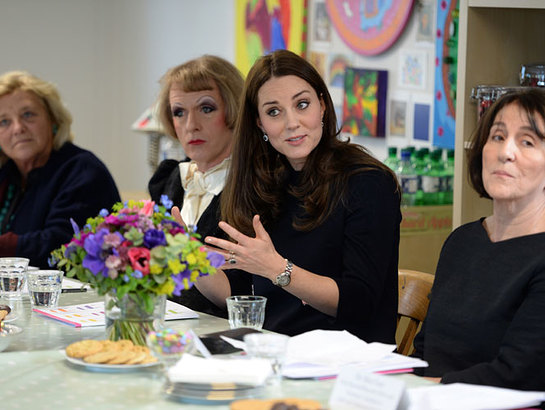 Her Royal Highness is Royal Patron of The Art Room, the charity behind the new project, which maintains a dedicated art room in a number of schools in Oxfordshire, Edinburgh and London.
Each week up to 85 children, aged between five and 11, receive art sessions designed to provide them with self-confidence, self-esteem and independence through creativity and self-expression.
Artist Grayson Perry, patron of The Art Room, said: "For me it comes down to the thing about what art is about, not about creative industries and making money – a lot of the benefit of art is doing it, interacting with who you are."
"Art is a language that gets to places that other things don't."
The Artist said the art sessions allowed children to express themselves away from their sometimes "difficult lives," adding: "I identify with that myself, for me it was a refuge."
During her visit to the school, The Duchess of Cambridge was left laughing when a little boy asked if she would like to be a bird not normally associated with royalty – a chicken.
The comment came when Her Royal Highness joined a group of eight children, sitting on sofas in the new art room, who were proudly showing her art projects they had completed during their sessions with therapists.
Many had decorated the round faces of clocks but one little boy painted a picture of a chicken with black and yellow stripy legs.
When The Duchess said she liked the legs, the little boy asked if she would like to be the bird and she replied laughing: "Would I like to be a chicken? Maybe."
The room was named after the Clore Duffield Foundation, which has been making donations to The Art Room since 2005.
The foundation was originally established by businessman and philanthropist Sir Charles Clore and to mark its 50th anniversary, celebrated last year, it chose to meet the opening and running costs of the new Barlby art space for three years.
Sir Charles's daughter Dame Vivien Duffield, Chairman of the Foundation, was invited to the visit and joined The Duchess of Cambridge, Grayson Perry and Education Professionals for a roundtable discussion about the work of The Art Room.
Before leaving, The Duchess of Cambridge was presented with a chair made by the youngsters and decorated with stamps donated by the Royal Correspondence Office and received posies from a group of young children.
Source: DukeAndDuchessOfCambridge.org