George Lopez, star of the new Pantelion (Lionsgate/Televisa) film, Spare Parts, a true story about 4 high school students who form a robotics club on a shoe string budget, invites people from all over the world to join efforts to get public education properly funded with the launch of a new campaign entitled, "LOWRIDE WITH GEORGE LOPEZ".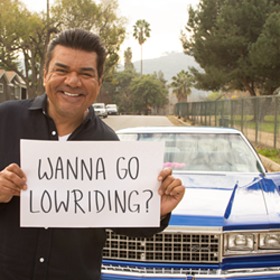 Fans can contribute now at Omaze.com/GeorgeLopez for a once in a lifetime cruise with you and a friend along the Hollywood Sunset Strip in a tricked out lowrider with George Lopez. The package includes flights, 4-star hotel and dinner for 2 at one of the best restaurants in Beverly Hills.
For each $10 contribution made through the Omaze fundraising platform, eligible participants will be automatically entered for a chance to win. Funds raised from the campaign will go to the LA Fund for Public Education on behalf of the Los Angeles Unified School District, where George went to school, the 2nd largest school district in the country, and TrueSpark, a non-profit charitable organization that inspires children through character education that works with Beyond the Bell, a division of the LAUSD.
LAUSD has faced severe budget cuts in recent years that are expected to continue. Nationwide, our schools are losing billions of dollars in funding. "LAUSD believes that all students deserve an education that is relevant, engaging and prepares them for the high tech careers of the future," says Alvaro Cortes, Executive Director of Beyond the Bell which runs award-winning robotics teams across the district.
"We are so privileged to have George Lopez, one of our most successful performing artist alums in the entertainment capital of the world support our mission to provide full-time arts teachers in every artistic form at every school," says Rory Pullens, newly appointed Executive Director of Arts Education.
The 6-week program, powered by Opportunity Builders, LLC, which starts on January 14, 2015 "shares a message of hope for future performing artists, filmmakers, engineers, scientists, and other professionals who will make our lives easier, more enjoyable and solve problems we don't even know exist yet", says Seanne Murray, Esq., CEO of Opportunity Builders.
To make a donation, click here.