Last week students at The Liverpool Institute for Performing Arts (LIPA) were given a once-in-a-lifetime opportunity to learn from one of Hollywood's leading actors.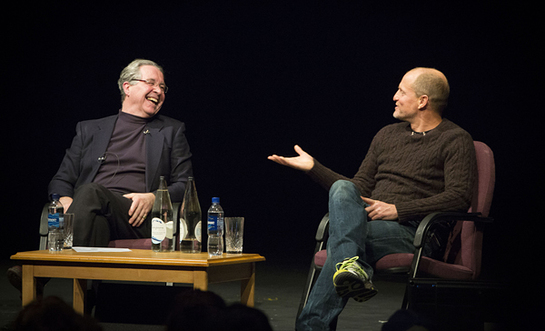 Woody Harrelson visited LIPA to take part in a one-hour question and answer session with students during which he talked about some of his most famous and celebrated roles.
Speaking to a packed and excited audience in LIPA's Paul McCartney Auditorium, the Oscar-nominated and Emmy-winning actor reflected on his work over the last three decades. The conversation was chaired by the Founding Principal/CEO of LIPA, Mark Featherstone-Witty, who introduced clips throughout the session from Harrelson's roles in films such as 'Natural Born Killers' and 'The Messenger' (for which he received one of his two Oscar-nominations), last year's acclaimed detective drama 'True Detective' and the sitcom 'Cheers', the show which first brought him to the public's attention.
Asked by one of LIPA's BA (Hons) Acting students how he approaches creating characters for film, Harrelson replied: "As you're reading a script, you get a feel for your character, and how they fit in to the piece. You need to look for the thing that opens the door to that character."
One of his main pieces of advice was for students not to hold back when bringing their characters to life: "I want to encourage you guys to be bold with your choices, and not go with what's safe. I would rather go for it and get pulled back by a director, than play it safe and not do something special."
Harrelson talked about how he felt about working with film icons such as Robert Redford, with whom he worked on 'Indecent Proposal'. He said: "It was daunting, but pretty exciting to be working with Robert Redford. It was a great experience, but definitely nervous doing scenes with him."
Featherstone-Witty asked him about how he chooses what projects to go for and whether he looked at money or the quality of the material. Making a direct reference to Featherstone-Witty's own advice, Harrelson said: "A man I've recently come to admire told me 'Find out what you love doing and how to get paid for it'."
He added: "I don't do projects just for money. If you do that, your career isn't going to last. Someone once told me, careers aren't made by how many times you say yes, but how many times you say no. If money is the prevailing thing, then you're lost."
Harrelson was also asked whether he would be returning to the stage, or if he felt his future was in television and film. He disclosed that he has been writing a comedy and that he might try and put it on in London and said: "I prefer theatre. I think it's the best way to get psyched as an actor. Getting up on stage is so exciting."
Speaking after the event, Harrelson commented on his visit to LIPA, saying: "I love it here. It's learning at its best. The students are so enthusiastic and love what they are doing. What better environment could they have? There's a great vibe."
Woody Harrelson's appearance was the latest of LIPA's regular masterclasses and question and answer sessions, which give its students the opportunity to learn from successful figures across different areas of the performing arts industry. In the past, LIPA has hosted sessions with Sir Ian McKellan, Alan Rickman, Dionne Warwick, Dawn French, and Will Young alongside luminaries in senior roles that are about making performance possible (such as award-winning producers and lighting designers).
LIPA is located in Paul McCartney's old school, the Liverpool Institute for Boys, which underwent a multi-million-pound renovation to turn it into a state-of-the-art performing arts higher education institution. It was founded by Paul and Mark Featherstone-Witty and opened in 1995 with the aim of providing the best teaching and learning for people who want to pursue a lasting career in the arts and entertainment industry, whether as performers or those who make performance possible.
For further information about LIPA please click here.