Dedicated staff and patients supported by the charity Arthritis Research UK met The Duchess of Cornwall this week as she visited in her capacity as Patron.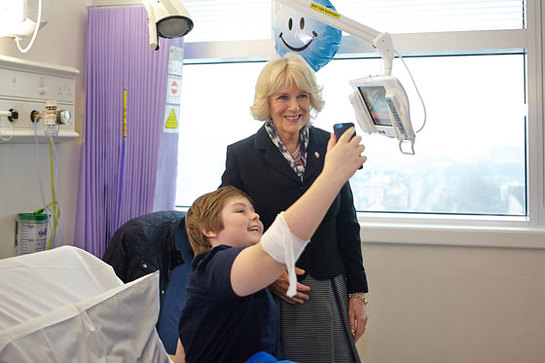 During her visit to the University College Hospital in London, The Duchess met patients and the adolescent rheumatology team carrying out ground breaking research in the UK.



The research centre is the world's first dedicated to understanding how and why arthritis affects teenagers and is a collaboration between UCL, UCLH (University College London Hospitals NHS Foundation Trust) and Great Ormond Street Hospital.


Touring the facility, Her Royal Highness was shown immune cells in a microscope as part of a project defining how puberty and stress can affect the immune system and MRI scans which show how the progress of arthritis in teenagers is different to that of adults. She also had the opportunity to meet young people who have worked with researchers to develop support and information services for other young people with arthritis.


There are approximately 15,000 children and young people in the UK living with the pain caused by arthritis.
Danny Roberts, 13, from Maida Vale was pictured with The Duchess of Cornwall and said: "It was fantastic to meet the Duchess of Cornwall, she was really interested in why I'm at University College Hospital and wanted to find out more about how I'm being treated. It was really nice of her to come and see us and be so concerned."


Many of the young patients have been working with the research team to develop the charity's website, helping to convey information about the disease to other young sufferers.



To find out more about the Arthritis Research UK Centre for Adolescent Rheumatology please visit www.arthritisresearchuk.org.
Source: www.princeofwales.gov.uk