The Duchess of Cambridge, Royal Patron of the children's mental health charity Place2Be, has recorded a video message to support the UK's first Children's Mental Health Week.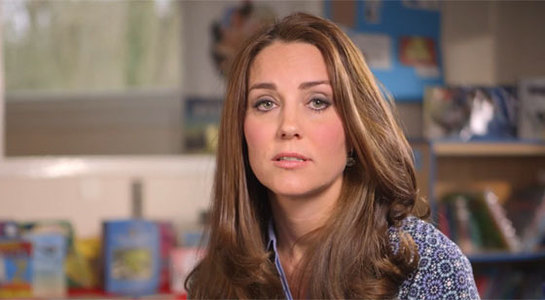 In the message, Her Royal Highness says that both she and The Duke of Cambridge have seen that many children are struggling to cope with the impact of issues such as bullying, bereavement, family breakdown and more, which for some young people can lead to depression anxiety, addiction and self-harm if they don't get appropriate support. The Duchess says that stigma around mental health means that many children do not get the help they so badly need, which needs to change.
The Duchess of Cambridge said: "Through Place2Be I have seen the benefits of offering children support for their mental health in the safety of the school environment. Both William and I sincerely believe that early action can prevent problems in childhood from turning into larger ones later in life."
From Monday, the video message can also be watched on www.place2be.org.uk/childrensmhw, where there will also be tips and guidance for parents on children's mental health issues.
The video message, recorded at Bethlem and Maudsley Hospital School in Beckenham, launches a week-long campaign by Place2Be. Children's Mental Health Week comes as a new survey of 864 parents by Place2Be reveals that almost a third (30%) of parents of children aged 5 – 18 years old admit they would feel embarrassed if their child wanted counselling in school. Place2Be hopes to use this week to encourage parents to talk openly with their children about their feelings and get any appropriate support.
The survey also found that one in five parents (22%) would not encourage their child to take up counselling in school, even if they asked for it.
Dads were more likely to feel uncomfortable (38% said they'd feel embarrassed, compared to 23% of mums) about their child speaking to a counsellor, and those parents who are separated were less likely to feel embarrassed than those who are married or in a civil partnership (25% compared to 30%).
Children's Mental Health Week is being featured as a guest campaign on Mumsnet, and on Monday 16th February it will appear on the iconic BT Tower in London. Throughout the week, the charity is also publishing ideas and top tips for parents to help them support their children's mental health.
Catherine Roche, CEO of Place2Be said: "We're thrilled to have the support of our Royal Patron, HRH The Duchess of Cambridge, for this important new campaign. By raising awareness of the benefits of getting support early for mental health issues, we hope to change attitudes and help reduce the risk of more complex and serious problems when those children reach adulthood.
"We'd encourage all parents and carers to take a look at the ideas and tips on our website about how to talk to children about their mental health today."
Place2Be is an award-winning charity and the leading UK provider of school-based mental health services, providing early therapeutic intervention to help children and young people cope with issues such as bullying, bereavement, domestic violence, family breakdown, neglect and trauma.
The Duchess of Cambridge has been Patron of Place2Be since 2013, reflecting her interest in child mental health and the importance of early intervention to provide children with in-school mental health services at the earliest stage possible, to tackle problems before they can escalate.
Source: DukeAndDuchessOfCambridge.org