A few lucky Helen Woodward Animal Center rescue pups are receiving major, national television exposure this weekend as NBC Owned Television Stations premiere the new special Best in Shelter with Jill Rappaport.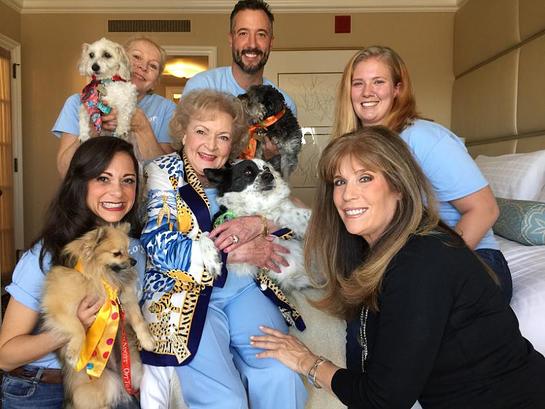 The high-profile show focuses on categories of dogs often overlooked for adoption and exposes the incredible virtues of these unsung fuzzy heroes by celebrating their successful adoptions at featured rescue organizations.
Four senior female dogs from Helen Woodward Animal Center will show the world what they've got on NBC 7 San Diego, Saturday, February 21st at 6:30 PT. Viewers in other markets should check their local listings for airtimes.
Long time NBC correspondent, award-winning animal advocate and author Jill Rappaport is the creator, executive producer and host of the new rescue-pet focused show which takes viewers around the country to highlight categories of orphan pets who often wait the longest to find their forever homes. These categories include Pit Bulls, Mutts, Tri-pods – three legged dogs, and Seniors – aged 7 years or older. With the help of renowned celebrities (such as Olympic superstar skier Lindsey Vonn and singer/actress Bernadette Peters) the half-hour special highlights adoption centers from around the country working hard to place these special pets.
This Saturday, Best in Shelter with Jill Rappaport will celebrate four extremely loveable senior female dogs from Helen Woodward Animal Center. Each of the gorgeous foursome were named after a Golden Girls character (Rose, Dorothy, Blanche and Sophia) due to their charming and comical personalities. Through the filming of the show, these spunky senior girls had the exciting opportunity to meet legendary actress, comedian, long-time animal advocate and original Golden Girls star Betty White who weighed in on their adoptable qualities, such as "lickability" and cuddle factor. Teen actor Lou Wegner selects his "Best in Shelter" pick but each one ends up a winner as they find their loving forever families by shows end.
"We were delighted when Jill asked us to participate," stated Helen Woodward Animal Center President and CEO Mike Arms. "The national exposure and incredible celebrity support means we can really spread the message of helping orphan pets in need. Ultimately, that means we save more lives."
Best in Shelter with Jill Rappaport will air locally on NBC 7 San Diego on Saturday, February 21st at 6:30pm PT and on the NBC Owned Television Stations and NECN. Tune in to support the adoption of these undeniably loveable dogs.
For more information on Helen Woodward Animal Center, go to www.animalcenter.org or call (858) 756-4117.
Source: PR Newswire