Broadway's finest appeared at the Birdland Jazz Club Monday night to raise funds for the fifth consecutive year to battle pulmonary fibrosis (PF), a devastating and relentlessly progressive disease involving scarring in the lungs.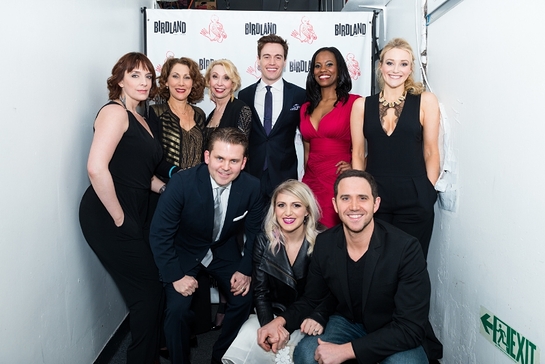 With no cure, many live only two to three years after diagnosis. In efforts to fund research toward a cure, award-winning actress and dedicated Pulmonary Fibrosis Foundation (PFF) advocate Julie Halston hosted Broadway Belts for PFF! Uniting some of Broadway's best vocal talent, patrons and key members of the PF community, the sold-out event was a night of spectacular entertainment, which raised more than $150,000 to benefit the PFF.
Broadway stars showcased their belting talents during an intimate evening of melody under the musical direction of Christopher McGovern and returning director Carl Andress, who has directed all five of the Broadway Belts for PFF! performances. The star-studded cast included: Santino Fontana (Cinderella), Julia Murney (Wicked), Tony Award-winner Randy Graff (City of Angels), Annaleigh Ashford (Kinky Boots, You Can't Take It With You), Erich Bergen (Jersey Boys film, TV's Madam Secretary), Robert Creighton (The Mystery of Edwin Drood), Zakiya Young (Stick Fly, The Little Mermaid) and Betsy Wolfe (Bullets Over Broadway/The Mystery of Edwin Drood). Ms. Halston hosted the program for the fifth time with her incomparable humor and skillful narration. She most recently appeared in the hit Broadway show You Can't Take it With You.
"We are incredibly grateful to our dear friends Julie Halston, D. Michael Dvorchak, Ed Windells, Trisha Henson and Sue Frost for the time and talent they put into this year's event," said Patti Tuomey, President and Chief Operating Officer, Pulmonary Fibrosis Foundation. "The show always features such amazing talent and in five years, has contributed more than $387,000 to the pulmonary fibrosis community. It's this type of dedication and effort from the PF community that will help us fund research towards a cure for pulmonary fibrosis."
Broadway Belts for PFF! began in 2011 as an evening to honor beloved Associated Press theater critic and reporter, Michael Kuchwara. During his 25-year tenure as a critic, Kuchwara's reviews and coverage of North American theater were among the nation's most widely read. In May 2010, Kuchwara passed away from complications due to idiopathic pulmonary fibrosis (IPF). Broadway's Julie Halston, friend of Kuchwara, became a leading spokesperson for the PFF after her husband, broadcaster Ralph Howard, received a lung transplant due to idiopathic pulmonary fibrosis shortly after Kuchwara's passing.
"I want everyone to know about the Pulmonary Fibrosis Foundation so that no one living with this terrible disease has to go through it alone," Halston said. "My husband and I started this benefit five years ago to remember our friend Michael and we hope the awareness and money raised brings us closer to a cure."
The Pulmonary Fibrosis Foundation would like to thank the 2015 Broadway Belts for PFF! Presenting Sponsors: the Doug and Gay Lane Charitable Foundation, Genentech, and The Steffy Family Foundation Fund; the Director's Circle sponsors: the Daryl and Steven Roth Foundation, J. Todd Tullis in memory of Kathy Tullis, and the Erwin & Isabelle Ziegelman Foundation; the Broadway Partner sponsors: Broadway Cares/Equity Fights AIDS and Robert and Patricia Ross on Behalf of FARE; and our Ensemble Member sponsors: the Nederlander Organization. In addition, the Foundation would like to thank our Chorus Line sponsors: Jennifer A. Galvin, MD; Steve and Bev Hossa; IPF Patients PNW; Michelle Harmon-Madsen and Ken Madsen; Bruce T. Sloane; and Mary Halston and Bruce Sternemann.
All funds raised at Broadway Belts for PFF! will go toward the Pulmonary Fibrosis Foundation's Michael Kuchwara Fund for Idiopathic Pulmonary Fibrosis Research, Education, and Advocacy.
For more information on the Pulmonary Fibrosis Foundation, or to make a donation, please visit www.pulmonaryfibrosis.org.
Source: PR Newswire