Model and entrepreneur Cindy Crawford and makeup artist and entrepreneur Sonia Kashuk have not only shared years of friendship, but also a passion for beauty.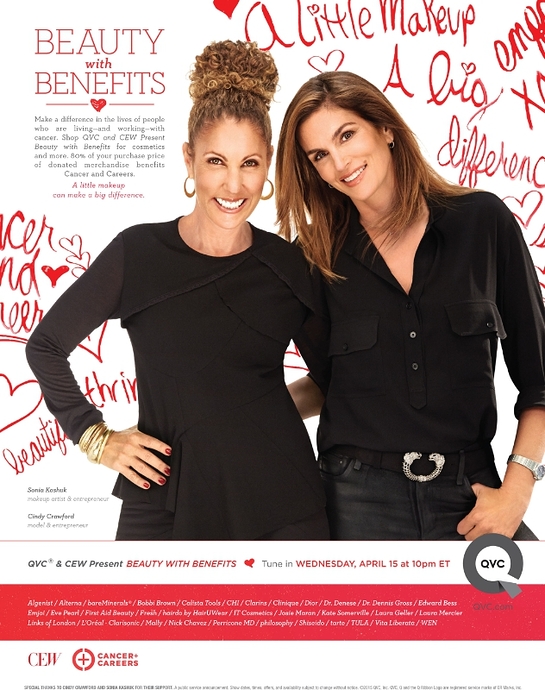 Now the two beauty mavens have united their passion to prove that a little makeup can make a big difference by appearing in both a print and television public service announcement for "QVC and CEW Present Beauty with Benefits."
QVC and Cosmetic Executive Women (CEW) are once again joining forces for a two-hour live charitable broadcast to provide shoppers with a special opportunity to feel beautiful while giving back. "QVC and CEW Present Beauty with Benefits" is scheduled to air on QVC Wednesday, April 15 at 10 PM (ET) and will feature prestige beauty brands including Laura Mercier, Clinique, Laura Geller, Shiseido, Josie Maran, philosophy and more.
"Cindy and Sonia have each been inspiring women for years with their ambition and passionate spirits," said Ken O'Brien, senior vice president of merchandising for QVC. "We are honored to have them as our spokespeople this year and are confident that together, they will inspire viewers to make a difference."
During the event, beauty enthusiasts can choose from a selection of color cosmetics, fragrance, skin-care and hair-care products, and 80 percent of the purchase price of donated merchandise will benefit Cancer and Careers, a charitable program of the CEW Foundation that is dedicated to the empowerment of people living and working with cancer. Since 2013, "QVC and CEW Present Beauty with Benefits" has generated $2.2 million to benefit Cancer and Careers, which is part of QVC's ongoing commitment to support charitable causes that promote the success and wellness of women through the power of relationships.
"Cancer has affected so many lives, but the challenges of living and working with cancer is often an aspect of the diagnosis that rarely gets attention," said Crawford. "That is why I wanted to be a part of this great cause with my dear friend Sonia. Beauty is not just about the way you look, but also about the way you feel inside, and this is an opportunity for beauty to make a difference in people's lives."
"As a cancer survivor and beauty industry veteran, I am thrilled to be a part of Beauty with Benefits," added Kashuk. "It's wonderful to see so many leading names in beauty come together to support such a powerful cause that will impact the lives of so many."
"Cindy and Sonia embody what it means to be beautiful," said Carlotta Jacobson, president of Cosmetic Executive Women. "They have supported each other in friendship for so many years, so it's only fitting that they would come together to support a cause that means so much to both of them."
For additional information on "QVC and CEW Present Beauty with Benefits," click here.
Source: PR Newswire