The B. Riley FBR, Inc. 9th Annual "Big Fighters, Big Cause" Charity Boxing Night returned to the Loews Santa Monica Beach Hotel for a star-studded night of boxing presented by Golden Boy Promotions to benefit the Sugar Ray Leonard Foundation, and their mission to fund life-changing research, care & awareness for pediatric type 1 & 2 diabetes, and to help children live healthier lives through diet and exercise.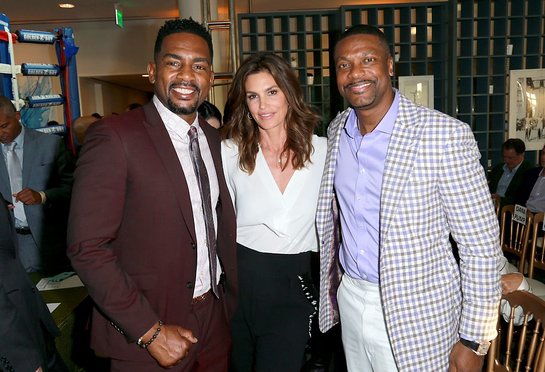 Emceed by actor and comedian Bill Bellamy, the night featured a national anthem performance by Kennedy Stephens, as well as a live and silent auction display, which included iconic memorabilia and other one-of-a-kind items and experiences to benefit the foundation. Additionally, the evening honored actor, comedian, and committed philanthropist, Cedric the Entertainer with the 2018 Golden Glove Award. The award was presented to him by Sugar Ray Leonard in recognition of Cedric's numerous charitable endeavors, including his work with Step On Up, the educational program shedding light on diabetic nerve pain, developed by Pfizer Inc. in collaboration with the American Diabetes Association.
Celebrities and Sugar Ray Leonard Foundation supporters in attendance included Cindy Crawford and Rande Gerber, Oscar De La Hoya, Arsenio Hall (Actor/Comedian), Catherine Bach (Actress), Chris Hale (Former NFL Player), Chris Tucker (Actor/Comedian), Holly Robinson-Peete (Actress), Jimmy Jam, Johnny Gill (Actor/Recording Artist), Rodney Peete (Former NFL Player), Tommy Chong (Actor/Comedian), Daisy Lang (Boxer), and more.
Super featherweight prospect Jousce "Tito" Gonzalez (8-0, 8 KOs) of Glendora, Calif. scored a technical knockout victory at the end of the fourth round against Juan Sandoval (7-22-1, 4 KOs) in tonight's main event.
"I'm happy with a victory but I think I should've done better in this fight. I feel I should've use my distance more and thrown straight punches. Next time I will use my job more and my footwork."
Rising welterweight Aaron "Silencer" McKenna (4-0, 3 KOs) of Monaghan, Ireland defeated Darel Harris (1-2-1, 1 KO) of Sarasota, Florida via technical knockout after a cut, which was caused by a punch, forced the referee to stop the fight.
"When I saw the blood, I wanted to go after him even more," said Aaron McKenna. "Though I thought I was going to stop him in the next round, it was a good learning experience."
Rommel Caballero (1-0-1) of Coachella, Calif. defeated Daniel Bastien (4-8, 1 KO) of Nuevo Leon, Mexico via unanimous decision across four rounds of lightweight action. Caballero won with three scores of 40-35.
"After the first body shot, I thought I was going to drop him," said Rommell Caballero. "But he's tough and stayed in there. I learned a lot from this fight and I'm happy it turned out better than the first bout."
In the first bout of the evening, Oscar "El Motorcito" Acevedo (3-0) of Garden City, Kansas scored a four-round unanimous decision victory against Ricardo Fernandez (3-8-4) of Ciudad Juarez, Mexico. Acevedo won with three scores of 40-36.
"Out of all my previous opponents, he had the most fights," said Oscar Acevedo. "That's why it was a learning experience. It showed me where I am. Now I'm ready to come back and fix all my mistakes at the gym on Monday."