On Friday, WildAid's Vietnam team welcomed Vietnamese-American actor Maggie Q, star of the hit CBS series "Stalker," and Deputy Chief of Mission of the U.S. Embassy Claire A. Pierangelo to a launch event in Hanoi for the second year of Stop Using Rhino Horn, which now boasts over 40 Vietnamese celebrities spreading this important message.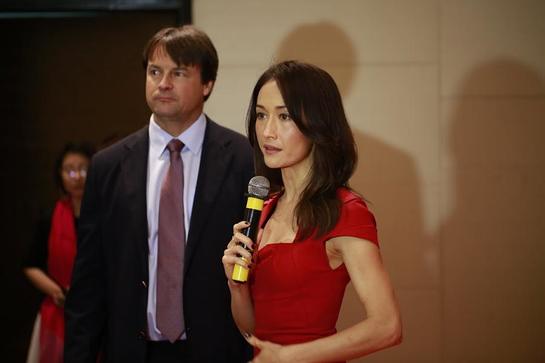 "I am proud to be here as my mother is from Vietnam. It saddens me to see the news of the record number of rhinos killed so their horns can be sold in Vietnam," Maggie Q said in remarks at the event, which she attended with fiancé and "Stalker" co-star Dylan McDermott. "I would like to help make people aware of the devastating impacts of this trade and persuade them to stop buying rhino horn."
While in Vietnam, Maggie and Dylan will join WildAid's team in other events and activities, including the "Ticket to the Wild" event in Ho Chi Minh City with many campaign ambassadors, partners and friends. They will also visit the Cu Chi Wildlife Rescue Center to promote pangolin conservation.
According to an AC Nielsen survey released Friday, 75 percent of those interviewed in Hanoi and Ho Chi Minh City believed that rhino horn has health benefits, with more than one-third of all respondents believing that rhino horn can cure cancer. (Such health benefits are medically unproven.)
Maggie Q and WildAid ambassadors from Yao Ming to David Beckham are joined by a growing number of Vietnamese artists in calling for an end to rhino horn consumption, including singers Thanh Bui and Thu Minh; actor Hong Anh; musician Quoc Trung; MC/producer Anh Tuan; and Mrs. World Thu Huong. They're among over 40 Vietnamese celebrities who actively participated in the campaign's awareness-raising activities last year.
"WildAid believes that raising awareness and changing people's behavior can end the trade in endangered wildlife, but only with effective law enforcement," said John Baker, WildAid's managing director. "We also hope that the Government of Vietnam will consider destroying its rhino horn stockpile to demonstrate its commitment to addressing the rhino horn trade."
Read more here.
Source: WildAid