Bid now on this opportunity to have lunch with Apple CEO Tim Cook on campus in Cupertino, California, and to be his guest at an Apple keynote event!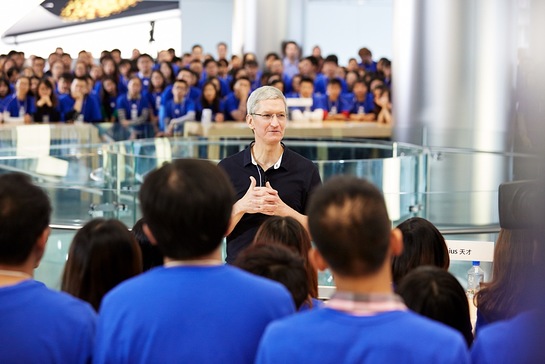 Proceeds from this auction will go to Robert F. Kennedy Human Rights. To realize his dream of a more just and peaceful world, Robert Kennedy's family and friends founded a living memorial in 1968. Today, Robert F. Kennedy Human Rights is one of the foremost international human rights organizations.


Tim was recently ranked #1 on Fortune magazine's 2015 list of the World's Greatest Leaders, and in 2014 he was named Person of the Year by the Financial Times.
As CEO, Tim has overseen the introduction of innovative new Apple products and services including iPhone 6 and iPhone 6 Plus, as well as Apple Pay and Apple Watch — the company's most personal device yet. He is leading a companywide effort to use 100 percent renewable energy at all Apple facilities, has encouraged his co-workers to give to charitable organizations in their community and started a generous program at Apple to match employee donations.
Before being named CEO in August 2011, Tim was Apple's chief operating officer and was responsible for the company's worldwide sales and operations. He earned an MBA from Duke University and holds a bachelor's degree in industrial engineering from Auburn University.
The auction runs until May 6, and can be accessed here.
Other opportunities going under the hammer for Robert F. Kennedy Human Rights include the chance to meet Robert Downey Jr, a lunch date with Natalie Morales, lunch with Star Wars' Mark Hamill, the chance to meet Stella McCartney, tea for two with Michael Caine, the chance to meet Ed Sheeran and much more. View all the auctions here.