Grand Ole Opry member Trace Adkins took the Grand Ole Opry's 90th Anniversary celebration with him on his recent ten-day, three-country USO tour to the Middle East and Europe, launching what's called the OPRY CIRCLE THROWDOWN.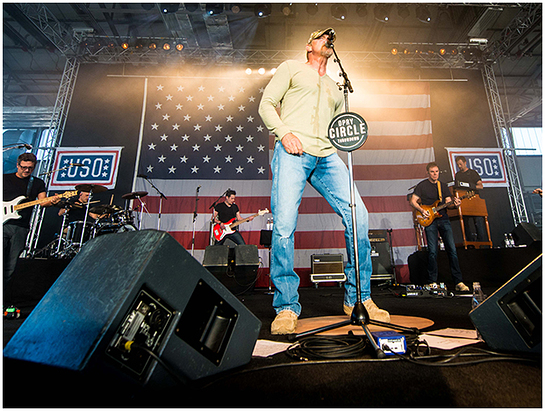 During his USO performances, Adkins threw down a replica of the famed six-foot Opry Circle of wood symbolizing the oak center stage at the Opry House, sharing the excitement of the Opry's 90th with military personnel, and performing Opry favorites. See it all here.
Following Adkins' return from the USO tour, the Opry will enlist dozens of other artists to join the celebration, performing their own planned and impromptu Circle Throwdowns across the country and around the world. After throwing their circles down behind a signature Opry microphone stand and performing for fans, they'll "throw it" to an artist friend to keep the fun going. Fans will be able to watch the fun throughout the year at opry.com.
The official Opry Circle was created when the Opry moved from the historic Ryman Auditorium in downtown Nashville to the Opry House in 1974. The circle was removed from the Ryman stage and placed in the Opry House such that the generations of artists who step on its boards today are standing where their country music heroes – Patsy Cline, Bill Monroe, and Johnny Cash, among them – once stood.
The Opry's 90th Anniversary Celebration continues throughout the year in Nashville with special shows and events.
Trace's Opry Circle Throwdown kicked off the Opry's "Cause For Applause" in May, benefitting MusicCorps and the USO.
Source: Opry.com