Country music super star Martina McBride paid a visit to the Food Bank of Northwest Indiana last Friday, May 15, in Gary, Indiana.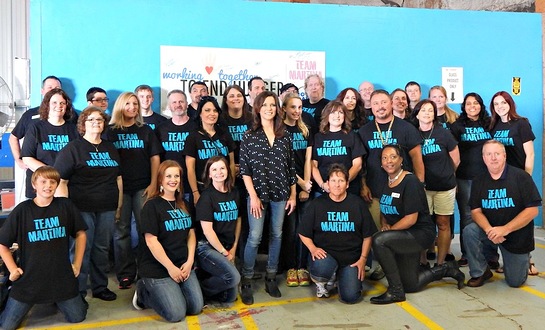 She performed at the Star Plaza Theater in nearby Merrillville, IN, just outside of Chicago, on her 2015 "Everlasting" tour that night.
Martina's "Team Martina" global volunteer group participated in the food bank visit, attracting local fans – and those from as far away as Texas and Florida – who joined the team for the day helping the food bank. Before enjoying the concert that night, fans volunteered alongside Martina to sort and box over 300 packages of food to be distributed to local food pantries to help those in need and fight hunger in northwest Indiana.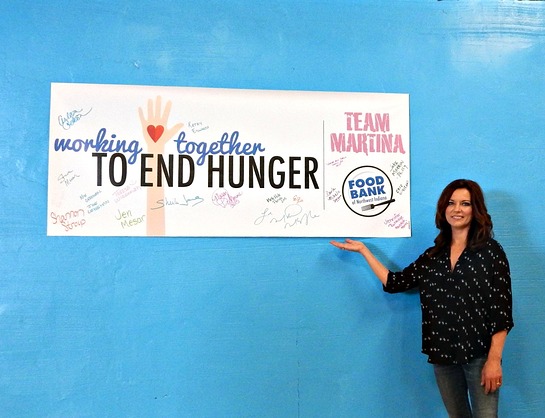 The Food Bank of Northwest Indiana distributes 4.5 million meals annually and serves as a link for hunger relief to children, families and seniors throughout Lake and Porter Counties in Indiana.
McBride, long known for her philanthropic work, was awarded the Harry Chapin Memorial Humanitarian Award last week in Nashville at the 2015 Music Biz Convention and will receive the Beacon of Hope Award in a ceremony at Lincoln Center on June 6 for her work in helping orphaned children at Covenant House International. Her "Team Martina" charity initiative encourages fans to volunteer in their own home towns and out on tour to help good causes in the communities that Martina performs in. Fans may join the group by visiting TeamMartina.com.
This summer, the team has adopted a children's orphanage at Covenant House International and, partnering with McBride, will provide music instruments to the children living there. Fans may make donations to the music program online from now until June 26, 2015, for a chance to win prizes like a personal video message taped just for the winner by Martina or attend a private sound check with her or win lunch with her in Myrtle Beach, SC, this summer to benefit the children's orphanage.
Visit Crowdrise.com/Soundcheck
or TeamMartina.com.
McBride, four time CMA Female Vocalist Of The Year, released her first cook book late last year entitled "Around The Table" and she most recently signed to Nash Icon Records, a joint venture between the Big Machine Label Group and Cumulus. She is expected to release new music later this year.