More than 600 guests donned their best and boldest looks in support of children battling cancer and other life-threatening diseases at the 13th annual St. Jude Children's Research Hospital FedEx/St. Jude Angels and Stars Gala held at the JW Marriott Marquis Miami on Saturday, May 16.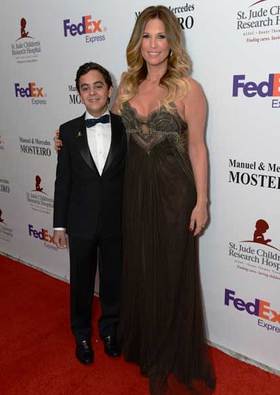 The Gala was founded by Daisy Fuentes.
This year, the event raised nearly half-a-million dollars in support of the children of St. Jude.
Chilean-born television icon Don Francisco was recognized for his worldwide commitment to giving back to others. Don Francisco is the host of "Sábado Gigante," Univision's longest-running program that will end its successful on-air stretch of more than 53 years this coming September.
"I feel very honored to have been recognized by this prestigious hospital," said Don Francisco. "I was well aware of the amazing work that they do but even more impressive is the fact that St. Jude freely shares their breakthroughs. This means doctors and scientists around the world can use that knowledge to save thousands more children."
Guests enjoyed an evening that included a special testimony by a St. Jude family, live and silent auctions, and a performance by one the most famous groups of Cuban reggaton in today's music industry, Gente D' Zona. The evening also featured additional live performances by Latin crossover R&B star Frankie J., and the man known as the "DJ of the Stars," DJ Africa.
Celebrity presenters for the evening included Alberto Sardiñas, Enrique Santos, Gaby Espino, Ismael Cala, Lili Estefan, Rashel Diaz, and FannyLu.
In the past, the gala has honored some of the most recognized and celebrated artists in Latin music and entertainment for their humanitarian work, such as Romero Britto, Juanes, Emilio and Gloria Estefan, Luis Fonsi, Juan Luis Guerra, Tommy and Thalia Mottola, Chef Adrianne Calvo and Coach Don Shula.
This year's gala sponsors included: FedEx Express, Sammy Sosa, Carnival, Visa, Zoological Wildlife Foundation, International Dermatology Research, Neutrogena, Fortune, Univision, Andreas and Kalkidan Kaiafas, Hola America, Ministerio de Fomento, YEZZ, The Al-Rashid Family, American Tower Corporation, Arven Financial, Arteasans Beverages, LLC., Powerful Yogurt, Leon Medical Centers, DDB Latina, Byblos Group, Ernst & Young, The Tamer Family, Bacardi, Nuage Designs, Casa Diris, Nassab A. Ahmadieh Graphic Design & Photography, People en Español, Amor 107.5 FM, Mix 98.3 FM, Radio Mambí 710 AM, Univision America 1140 AM, and The Dream Team Agency.