Songs For Sound, a charity dedicated to improving the quality of life for the 360 million people worldwide suffering from hearing loss, announced their "Hearoes Tour" before Rascal Flatts' closing act last week at the Tree Town Music Festival in Forest City, Iowa.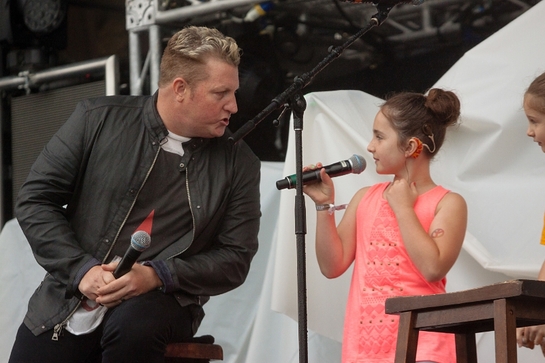 The band's vocalist, Gary LeVox, and his seven-year-old niece, Lexi, who is a bilateral cochlear implant recipient, performed together on stage. Lexi is the inspiration behind Songs for Sound, which was founded by LeVox's brother and sister-in-law, Kevin and Jaime Vernon. Jaime Vernon, along with sponsor Cochlear Americas, also promoted the Hearoes Tour, a mobile hearing health screening and prevention campaign designed to raise awareness for hearing loss and prevention among veterans and their families.
"Most people probably don't know that hearing loss/ear disease is the number one disability reported among troops returning from overseas, yet most can be prevented or treated," said Jaime Vernon, Founder of Songs for Sound. "The state of hearing healthcare continues to be devastating. Due to lack of awareness and access, only five percent of those able to benefit from a cochlear implant are being treated and less than 10 percent of the hearing aids needed globally are being produced. This is why we're thrilled to be able to combine mobile health screenings and music to shed light on these important issues and help support and educate veterans, their families and the public through our Hearoes Tour."
Neil Thrasher, Kelley Lovelace and Andrew Pates, a few of Nashville's songwriters, also joined the Cochlear Americas and American Legion sponsored set. Thrasher sang the first verse of Fast Cars & Freedom, a song he co-wrote with LeVox & Wendell Mobley. LeVox surprised guests by singing the second verse from backstage, and then came out as the crowd went crazy. Suddenly, that same crowd grew silent while LeVox and Thrasher performed Banjo and LeVox's niece, Lexi, joined them. As they performed together there was not a dry eye in the house.
"As a musician I live and breathe music and can't imagine a world without being able to hear," says Gary LeVox, Rascal Flatts vocalist. "This is a cause that really hits home for me, literally and figuratively. I know Lexi lives life to the fullest, including a gift we all need, music. I'm excited to help give that gift to our Veterans and children all across the US."
The Hearoes Tour is a planned 12-week mobile campaign with a sponsor-branded screening vehicle slated to kick-off in August at the Chicago Air and Water Show and will travel around the US visiting air shows, retail, schools and clinics totaling over 60 stops and reaching over 5 million people to help raise awareness around hearing health and prevention among veterans and their families. Attendees will receive free auditory screenings, equipment demos and other information and giveaways.
Hearoes Tour stops include: 
- Chicago Air & Water Show, Chicago (8/15 – 8/16)
- Kansas City Aviation Expo, Kansas City (8/22 – 8/23)
- Fort Worth Alliance Air Show, Fort Worth (9/12 – 9/13)
- JB Andrews Air Show, Maryland (9/18 – 9/19)
- MCAS Miramar Air Show, California (10/3 – 10/4)
- San Francisco Fleet Week, San Francisco (10/10 – 10/11)
- Sea & Sky Spectacular Air Show, Florida (10/24 – 10/25)
- Blue Angels Homecoming Air Show, Florida (11/7)
- PLUS 4 "VIP" intimate donor-focused events featuring high profile songwriters and other performers (TBD)
- Other clinics, schools, retail centers to be announced. 

The Hearoes Tour has a few remaining sponsorship opportunities with bus branding, routing influence and more.
For more information on becoming a sponsor for The Hearoes Tour please click here.