The Duke of Cambridge helped a leading Jewish charity celebrate a special anniversary last week during an event at Alexandra Palace attended by leading members of the Jewish community and singer Lionel Richie.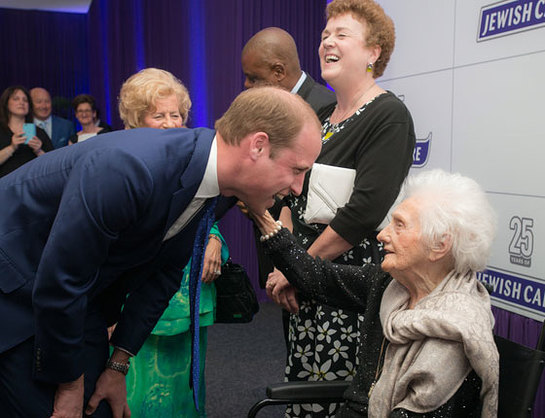 Jewish Care provides health and social care support to the UK's Jewish community in London and South East England. The charity looks after more than 7,000 people every week through over 70 health and social care services.
His Royal Highness began his speech at the event by joking that the 1,400 guests would give Richie a harder time than the crowd at the Glastonbury festival, where he will perform later this month.
He quipped: "I imagine this crowd is a lot rowdier than what you will have at Glastonbury."
The Duke told the audience of the organisation's clients, staff, volunteers and supporters: "The results of your commitment to one another within the Jewish community are obvious – the real and loving care that thousands of elderly and vulnerable people receive, among the many works that you carry out.
"Your care for one another has another, less tangible value.
"During a year when many in the Jewish community have had cause to feel under threat, for no reason other than simply the fact of your Jewishness, your unity is all the more precious.
"Your commitment and loyalty to one another, and to society more widely, is ultimately what keeps you strong."
He added: "Through your generosity and commitment, I am sure Jewish Care will continue to thrive and grow for the next 25 years.
"Once again, congratulations on everything you have achieved. I wish you a wonderful evening and a happy birthday. Mazel tov."
Jewish Care has 1,500 staff and 3,000 volunteers. Its services include caring for older people, those with physical and sensory disabilities, those with mental health needs, as well as for people who have experienced a stroke or have Parkinsons. Its youth leadership scheme gives young people the opportunity to develop their leadership skills while volunteering in the community.
Source: DukeAndDuchessOfCambridge.org