Children Mending Hearts, which provides educational and creative opportunities to disadvantaged youth in the U.S. and around the world, staged its 7th annual fundraiser, "Empathy Rocks: A Day of Fun In the Sun and Giving Back" on Sunday, June 14th at a private estate in Malibu.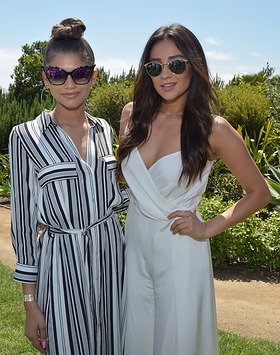 The highlight of the celebration was the tributes made to several individuals who exemplify the organization's goals and values. Ambassador Nicole Avant received the Ambassador of Peace Award, actress Shay Mitchell was honored with the Global Citizen Award, the cast of MTV's Teen Wolf received the Cast of Heroes Award, and recording artist Zendaya received the Empathy Rockstar Award.
Founded in 2008 by Lysa Heslov, Children Mending Hearts empowers children worldwide to find and use their voices through creative expression through a variety of educational initiatives. The organization is focused on developing and funding educational and arts programs, giving children and teens the opportunity to develop empathy and global citizenry and directly engage them in global children's causes. Through this, they ultimately realize their potential to affect change both in their own community and for children around the world.
"Giving kids a global education and encouraging them to find their voices through creativity are essential tools for children to grow up with a sense of compassion and empathy for others," said Heslov, on the organization's continued efforts and the selection of its honorees. "It is today's children who will be tomorrow's leaders — and honoring individuals who further our initiatives are vital in helping us achieve our mission."
The honorees at this year's fundraiser were recognized for their deep commitment and passion for social change, philanthropic contributions, and improving lives in our community and around the world. Steven Weber emceed the event with performances by children's rock group, The Negotiators, and Ava Cardoso Smith, daughter of Red Hot Chili Peppers' drummer Chad Smith. The event also featured a live painting exhibition by renowned artist and Tokidoki co-founder, Simone Legno.
Proceeds from the event will go towards providing educational programs teaching the importance of empathy and global citizenry to at-risk kids. The benefit is generously sponsored by Michael Stars, Material Girl, Sony Pictures Entertainment, Sabra, Participant Media, The Saban Charitable Support Fund, Creative Artists Agency, Tasty Brand, and PricewaterhouseCoopers.
To learn more about CMH and how to get involved, please click here.